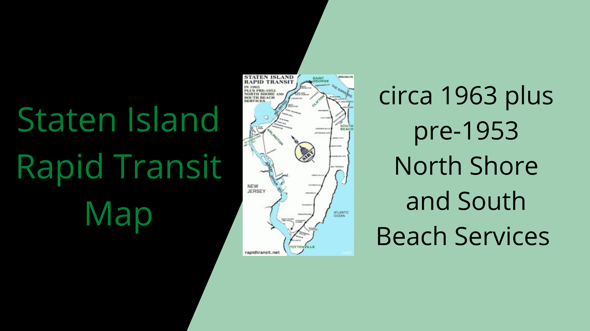 Staten Islanders have always had a bone to pick with New York City. It is the only borough not connected to the New York City Subway system. Nor did it have a bridge connecting it to the rest of city until 1960. Dubbed the "forgotten borough" by inhabitants, Staten Island is also the wealthiest borough and the least populated. The municipal also goes by the moniker, "the greenest borough," because it has 170 parks or 12,300 acres of protected land. Furthermore, it is home to many of the city's oldest buildings, some dating back to 1690.
Sixty-two neighborhoods populate the island, one of which is
Annadale.
Archivists at the Staten Island Museum say the area was originally occupied by the Lenape Indians. In the 1600s, Britain awarded Crown Grants to English families and a group of Huguenots. When the Baltimore & Ohio Railroad Station was built in 1860, the community was named Annadale after Anna Seguine, a member of a prominent family.
The Staten Island Railway, the borough's only rapid transit line, was established in 1860 by the Metropolitan Transportation Authority. Annadale Railroad Station was built the same year. The station was comprised of waiting and baggage rooms and a ticket window. By 1869 seven trains ran daily from St. George to Annadale. In 1910, growth prompted MTA to build a new station. The original station house was relocated 300 ft. from the road, attached to an 1850s building and ultimately converted to a private residence. In 1975 the building was relocated to Historic Richmond Town. The rail station in Annadale was rebuilt in 1939 and rehabilitated in the 1990s as part of a SIR-wide upgrade/platform lengthening project.
Today, Annadale Station supports local and express train service at Annadale Road and Sneden Avenue on the main line. The north entrance has a street level brick stationhouse and provides access to nearby parking. At the south end, passengers can reach both platforms by stairs or an overpass. Steel and concrete canopies cover both exits. Trains take about 30 minutes to reach the ferry terminal in St. George for the 25-minute crossing to Lower Manhattan.
When concrete sections of the platform began to deteriorate, MTA began looking for a long term, corrosion-resistant solution. Fiber reinforced polymer (FRP) has built a presence in this market space and caught the attention of RailWorks, a specialist in rail transit and track applications, in 2019. FRP is suited to restoration of historic sites because panels are prefabricated, reducing the impact on both the structure and the surrounding area. Fast installation also minimizes downtime for users.
Don't miss our blog next week when we reveal the key component behind the quick installation of our FRP rail platforms and share the details that led up to the finished product.