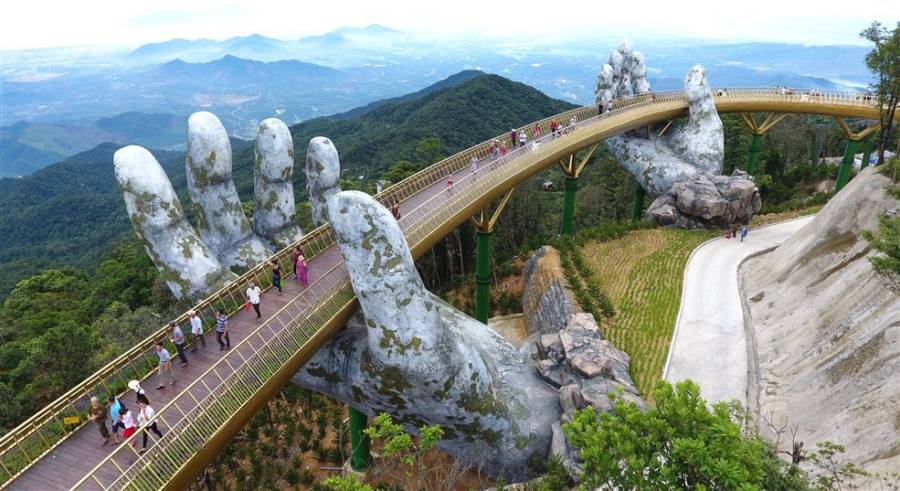 Bored Panda
In a passage from J.R.R. Tolkien's "The Fellowship of the Ring," Frodo describes the Pillars of the Kings as great structures that rose like towers. "Giants they seemed, vast grey figures silent but threatening. They were indeed shaped and fashioned: the craft and power of old had wrought upon them…"
In Tolkien-like fashion, the Cau Vang or "gold bridge," appears to be suspended at 4,600 ft. above sea level held up by nothing more than two giant hands that might have been chiseled from stone centuries ago.
Ho Chi Minh City TA Landscape Architecture designed the bridge which opened in June. Cau Vang is part of a $2 billion investment that includes a themed French village, cable car and waxwork museum. Principle designer Vu Viet Anh said he "aimed to invoke the sensation of walking along a thread stretching through the hands of God." Located outside Da Nang Vietnam, the bridge gives pedestrians dizzying views of the Ba Na Hills and surrounding countryside.
According to TA Landscape Architecture the client, Sun Group, was hesitant about the design. "At first, the client was quite concerned about this bridge. It took months to persuade them of the final design," Vu Viet Anh said.
The 500 ft.-long bridge comprises eight sections and serves as part of an upgraded route between two cable-car stations within the mountain-top resort. It is held up by simple steel supports. Despite the illusion, the hands exist for effect. The timber deck sports stainless steel handrails with a gold-colored finish. The design firm said it patterned the bridge as "precious gold bullion which was dragged out and being treasured by a giant pair of hands between heaven and earth."
The hands are actually a mixture of fiberglass and wire mesh supported by steel supports.
TA Landscape Architecture said the design was inspired by the "world of gods, giant things and livings things".
The "skin" of the bridge's hands is marked with cracks and moss to further the appearance of aged stone. By weathering the pair of hands, the bridge's creators said they, "tried to give the new installation a sense of history, contrasting with the modern, golden thread that goes through the stone. The design firm has a second bridge project in the works that promises to bring to life the concept of a silver strand of God's hair connecting with the gold "shimmering through the hills." The bridge is expected to draw more than the 1.5 million visitors.