I recently traveled to Ashtabula County in northeast Ohio. The original settlers in this section of Ohio brought the quaint covered bridge architecture with them from New England. At one time, there were over 200 covered bridges in this area; today there are less than 50. Some are historic, some are restored and some are replicas; all add charm to the landscape.
Ashtabula County has the largest concentration of covered bridges in northeast Ohio, home to 18 covered bridges (at last count). Six have been constructed since 1983 and a new pedestrian covered bridge is currently under construction (see photo). Ashtabula County boasts both the shortest covered bridge in the United States, the 18-foot long Liberty Street bridge in Geneva, and the longest covered bridge in the United States, the Smolen-Gulf bridge in Ashtabula, which spans 613 feet. The two are separated by less than 15 miles. Both were designed by John Smolen, a retired Ashtabula County engineer.
According to the Federal Highway Administration,
Most of America's covered bridges were built between 1825 and 1875. By the 1870s, most bridges were covered at the time of construction. The original reason for the cover was to protect the bridge's trusses and decks from snow and rain, preventing decay and rot. The cover served other purposes also-it kept horses from being spooked by the waters underneath, it was a reprieve from weather to the weary traveler, and it was used for political rallies, religious meetings, a night's sleep for tramps, town meetings, poker parties, sweethearts' rendezvous, drunken revels, dances, and even rainy-day luncheons took place on the covered bridge. An uncovered bridge would last approximately 20 years but a covered one could last 100 years.
One northeast Ohio deconstructed covered bridge was divided into two parts, carefully reconstructed, and today each half is home to a pizza parlor! This is a testimony to the enduring appeal of the covered bridge. Whatever the reason – a fascination with bridges, the uniqueness of the covered architecture, or a desire to connect with a bygone era – covered bridges continue to lure visitors to this corner of Ohio to experience their distinct charm. Here are a few notable examples.
Liberty Street Bridge. Geneva, Ohio.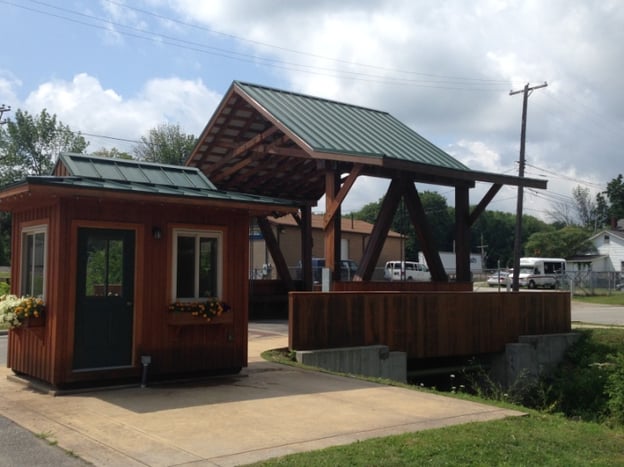 Open to vehicle traffic in 2010, the tiny Liberty Street bridge in Geneva, Ohio, is a modern tribute to the covered bridge with a one-of-a-kind design. The structure is supported by a single Kingpost and its roof is a Scissor Truss, which was intended to give a more open, lighter feel. The replica toll booth is to remind visitors of pioneer days when it was typical to pay for the privilege of crossing a bridge. The bridge was modularly constructed of donated locally-grown timber by students at nearby Ashtabula County Joint Vocational School.
Smolen-Gulf Bridge. Ashtabula County, Ohio.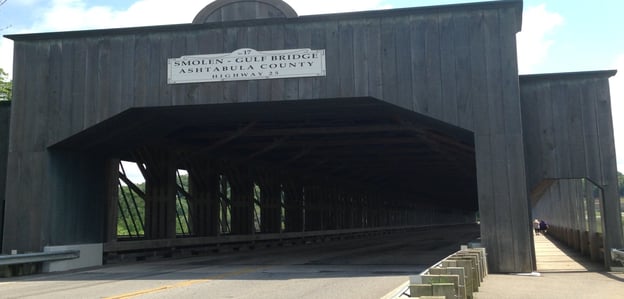 Touted as the longest covered bridge in the United States and the fourth longest in the world, the Smolen-Gulf vehicle bridge looms 93 feet above the Ashtabula River. Dedicated in 2008, its 30-foot clear width of Pratt Truss construction will support full legal load traffic. Structural design was by John W. Smolen, Jr. and architectural design was by Timothy J. Martin, Ashtabula County Engineers.
Indian Trails Park Bridge. Ashtabula, Ohio.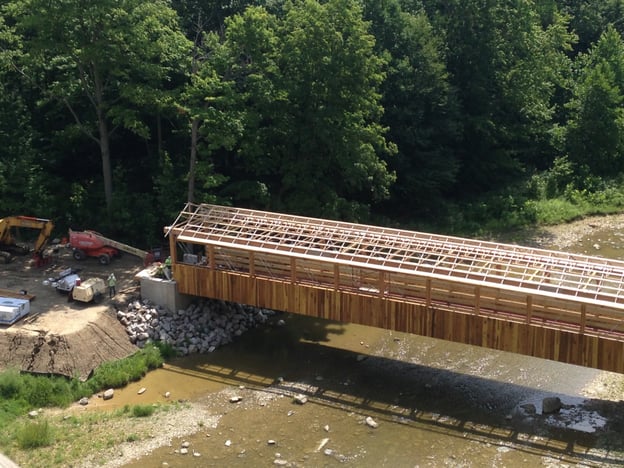 Approximately 70 feet below the Smolen-Gulf bridge, the Ashtabula Township Park Commission is expanding the current trail system of Indian Trails Park and adding a 14-foot wide covered pedestrian bridge. It mirrors the Pratt Truss construction of the nearby vehicle bridge and is being built by the same company that constructed the Smolen-Gulf bridge.