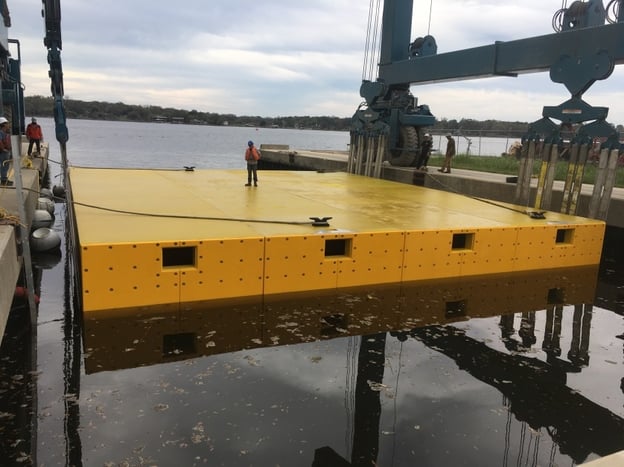 Well it's that time again! It's the end of the year, a time when we take a short break from our frantic activities to pause and reflect. We find it's worthwhile to do this in our lives - and in business. We should all take a few minutes to look back, see what our company has achieved and look ahead to the work that is waiting. Let's get to it!
In 2017 we installed seven Fiber Reinforced Polymer (FRP) bridge decks and platforms:
| | | |
| --- | --- | --- |
| Month | Project | Owner/Location |
| January | FiberSPAN Pedestrian Bridge Deck | City of Missoula, Montana |
| July | FiberSPAN Pedestrian Bridge Deck | Greene County (Ohio) Parks and Trails |
| September | FiberSPAN Trail Bridge | City of Springboro, Ohio |
| October | FiberSPAN Pedestrian Bridge Deck | New York State Offices. Albany, NY |
| October | FiberSPAN Trail Bridge | Jackson's Grant Real Estate. Carmel, Indiana |
| October | FiberSPAN Trail Bridge | Elk Grove Village, Illinois |
| October | FiberSPAN Trail Bridge | Greene County (Ohio) Parks and Trails |
We also accomplished a few other milestones. After a decade of growth, we moved into a new 300,000 sq. ft. home on the west side of Dayton. In February 2017, Naval Station Mayport in Jacksonville, Florida received its first set of FRP composite aircraft carrier "camels." Mayport will use our composite camels to berth nuclear powered aircraft carriers.
In November, we fabricated our first FRP mini-high platforms and ramps for Massachusetts Bay Transportation Authority's (MBTA) West Natick station. Our FiberSPAN-R platforms provide level boarding for individuals with disabilities. The advantages of FRP platforms? First of all, one truck delivered the FRP panels for both platforms - one truck! Also, to avoid busy commuter schedules, the FRP panels were installed quickly, over a weekend. FRP panels for the North platform were installed and completed on a Saturday with construction of the South platform completed on a Sunday.
In December, Composite Advantage was named the winner of the CAMX Combined Strength Award for its Fiber Reinforced Polymer (FRP) composite wicket gates. The Composites and Advanced Materials Expo (CAMX) recognized Composite Advantage and its collaborators - the US Army Corps of Engineers Construction Engineering Research Laboratory (ERDC-CERL), West Virginia University and the U.S. Army Corps of Engineers (USACE) Rock Island District - for teamwork that used composite material to solve a problem. We're honored to have received this award.
A few minutes to reflect is all we have, so let's look ahead. We're looking forward to a busy 2018! From March through August we're slated to install four FiberSPAN pedestrian bridge decks, one trail bridge and three vehicle bridge decks. Our products will be installed across the nation, from New York City and Florida to Pennsylvania and Massachusetts. We'll even cross the border to install a FiberSPAN vehicle bridge deck in Ontario, Canada.
We wouldn't have been able to do any of this, though, without a committed workforce, dedicated partners and customers who are willing to try something different. We want to thank you and wish you a very happy holiday season. We will see you in the New Year!