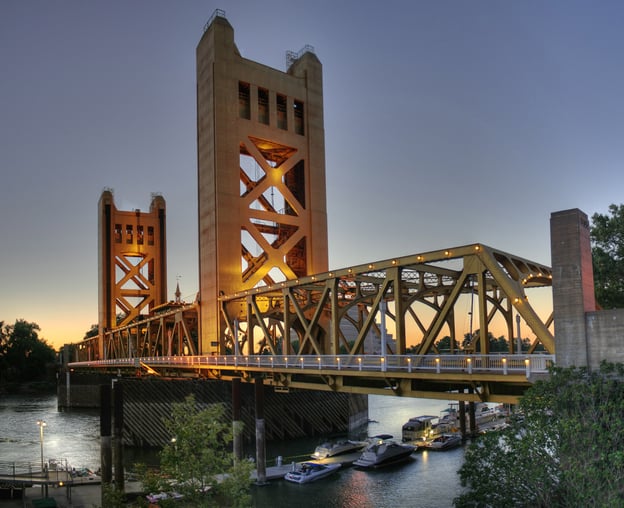 Located just west of Downtown Sacramento is a bridge with a long history and a coat of bright yellow paint. The Tower Bridge is a central span lift bridge that carries around 12,000 cars daily. It started its life as part of U.S. Route 40, which underwent significant changes in the 1960s. As part of these changes, Route 40's terminus was moved from California to Utah; as a result, Tower Bridge is now the centerpiece of what's now known as California State Route 275, running through West Sacramento. Let's take a closer look at what makes this bridge special.
When Tower Bridge was built in 1935, it carried both automobiles and trains. The railroad tracks were removed by 1963 and today the bridge is comprised of four lanes of traffic and cantilever sidewalks (more about those later). The bridge was added to the National Register of Historical Places in 1982. After around 40 years of sporting a silver shine, the bridge was repainted gold to match the cupola of the nearby State Capitol. In 2001, citizens voted to keep the bridge gold and it was repainted. The current gold paint is expected to last at least 15 years.
In 2008, the first ever Fiber Reinforced Polymer (FRP) cantilever sidewalks were added to Tower Bridge. The small three-foot wide concrete sidewalks were inadequate for the growth in bicycle and pedestrian traffic. Bridge engineers decided to use FRP after determining that center span weight limits could not support wider concrete sidewalks. The FRP sidewalk was the enabling structure to attain the desired ten-foot wide sidewalk to keep traffic moving, both vehicular and pedestrian, across the busiest bridge in Sacramento.