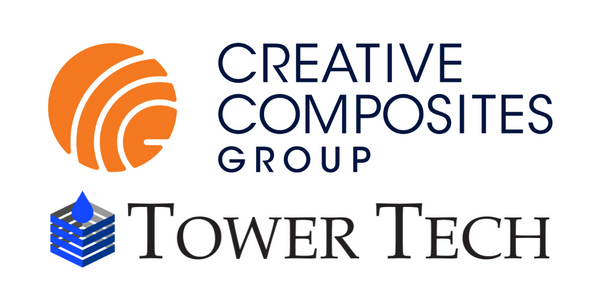 Five years ago, Mathu Solo wouldn't have believed Tower Tech could have achieved the level of success it has with Creative Composites Group.

Mat joined Tower Tech over 25 years ago and formed a good relationship with the president of Creative Pultrusions, Shane Weyant. "Creative Pultrusions created the components that make Tower Tech the high-quality product they are," Mat explained. Through the decades, the two companies – and the two men – have been through many successes and challenges together.
A Long Journey
Tower Tech towers have the best return on investment of any cooling tower in the industry. The company started 30 years ago as a revolutionary technology introduced into an established conventional tower industry. The new technology has stood the test of time – but that didn't mean the company didn't face difficult challenges along the way.

So when Shane was looking to expand Creative Composites Group's sustainable efficiency, Tower Tech was ready to be part of the plan.

"Creative Pultrusions wanted to grow from a commodity creator to a highly engineered systems and solutions provider," said Shane. "Other people might have shied away from Tower Tech, but knowing the company, the people and the industry, I could see that Tower Tech had amazing potential and was essential to helping Creative Pultrusions make this move."

Shane and Mat worked together to take the plan in Shane's mind and make it a reality. Recalled Mat: "I knew from the start that Shane had a bigger vision for Tower Tech than we could have imagined for ourselves."
Tower Tech Joins Creative Composites Group
Shane's master plan was to pull many companies together to create Creative Composites Group (CCG), with expertise across the composites spectrum. Tower Tech's cooling towers were an essential component to CCG's mission. And CCG brought the highest quality control systems to Tower Tech to improve their manufacturing process.

Tower Tech had sold the rights to their rental business for the United States the year before. The manufacturing business then "packed its bags" and prepared to move over 1,300 miles from Oklahoma to Pennsylvania. "Processes and procedures were absolutely essential to navigate the learning curves of this big of a move," remembered Shane. "Tower Tech had processes in place, but the move presented a chance to refine them, bring them together into the wider CCG mission and get everything well-documented for the future."

The result was a smooth transition. Both parties saw mutual benefits, especially in navigating the challenges of a merger and a cross-country move. "I'm so impressed by the level of support we got from day one," Mat said. "Joining CCG gave Tower Tech access to engineering, manufacturing, R&D, quality control and so many other departments that helped us grow beyond our organic year-to-year. Doors opened that we always wanted to see open, but we didn't have the resources to open them alone."
Merging Cultures
Perhaps the toughest part of a merger is combining cultures. Every company has a special culture, and merging cultures is tough but rewarding when it happens after lots of hard work.

"Mat has had the toughest role, as the president of Tower Tech," said Shane, "selling the change needed to get to where we needed to go. It's hard to bring in structures that would create change and make Tower Tech a better company while maintaining good relationships with your staff." Shane praised Mat's ability to do what needed to be done to execute the bigger vision that has let CCG perform so well even amid these incredible economic times.

A culture change will always yield friction, and those in leadership positions must balance fairness and firmness. "As a leader, Shane has been very transparent about expectations and goals – stemming from our holding company, Hill & Smith, Ltd., on down – and staying strong knowing some of our team embraced these changes while others decided to move on," Mat remembered. Most employees stayed on through the merger, enduring the tough parts and now seeing the results of Tower Tech's best-performing years to date.

"Tower Tech has been a great addition to CCG – especially in helping us achieve Hill & Smith's ESG commitments," Shane noted. "Five years went fast, and we're looking forward to the future with the amazing teammates we have from our group of companies."
Looking Ahead Five Years
With the toughest challenges behind them, Tower Tech is on a firm foundation to focus on product development and growth. The new TTCC tower is just one example of the great things coming from Tower Tech as a member of CCG. "This has been Tower Tech's most successful year, and these next five years could be our best ever," said Mat. "I couldn't have imagined it, thinking of the road we had to travel before joining CCG."

But Shane? "I knew we could do it."

Happy anniversary, Tower Tech! To learn more about the superior composite technology behind Tower Tech modular cooling towers, contact us.