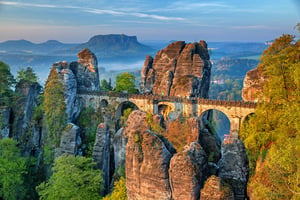 Every bridge is unique—like a fingerprint—yet they also share some common architectural features that include crowns, drains and wear surfaces.
The world's oldest datable bridge still in use is the slab-stone single-arch span over the river Meles in Izmir, Turkey. It dates from 850 BC. As modes of transportation have evolved—from the use of canoes and horses to the first gasoline-powered automobile in 1885—bridges have also had to adapt. Structural designs have evolved along with material choices. Stone, wood and metal are making way for options such as fiber reinforced polymer (FRP) composites. The design flexibility of FRP products allows us to stay ahead of changing performance requirements.
While FRP has a number of performance benefits, light weight remains the most important criteria in the vehicle bridge arena. Prefabricated fiberglass panels are 20 percent lighter than concrete, yet FRP retains high strength and durability, making it attractive for a wide range of applications. Corrosion resistant, FRP bridge systems can be tailored to include crowns, curbs, drains and different types of non-slip overlays to meet customer specifications.
The lightweight, prefabricated panels are also quick to install. Faster installation minimizes traffic delays and reduces overall costs. FRP strikes an ideal balance with its ability to save production time while delivering the necessary quality, strength and durability. And since FRP has a lifespan of 100 years, minimal maintenance makes this material choice a no brainer when compared to the costly upkeep of wood, steel and concrete.
These days when it comes to manufacturing and construction, people are also looking for ways to adopt sustainable practices. The small environmental footprint of FRP fits the bill. Check out our vehicle bridge infographic for more information, and make sure you pop over to our case studies to see previous projects!