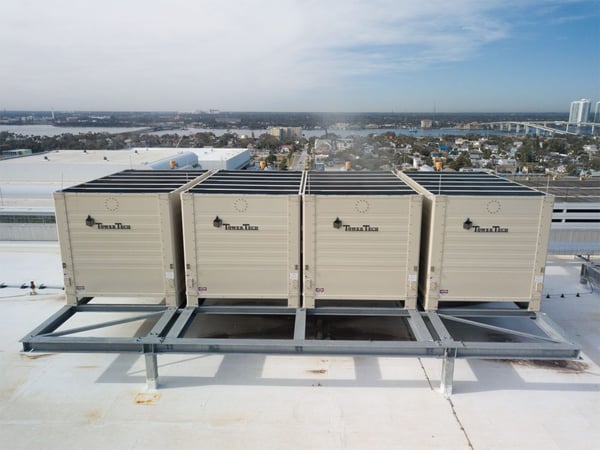 Tower Tech, Inc. (TT) is the supplier of the world's most efficient cooling tower. Tower Tech supplies a modular cooling tower design that provides customers with easy installations, low life-cycle costs, and industry-leading sustainability.
Compared to traditional cooling towers, which are often considered energy hogs, water wasters, and environmental nightmares, these modular cooling towers provide better mechanical reliability and redundancy for a longer service life than other cooling towers.
One of the biggest concerns with traditional cooling towers is the algae growth and Legionella's possibility to flourish in exposed and open sediment basins. The cooling tower design from Tower Tech mitigates or eliminates these flaws, making a better cooling experience.
Tower Tech cooling towers are built with the best non-corrosive materials around. Patented technology and extensive use of composite structural profiles reduce maintenance and operation costs while making installation easy. The tower structure is composed of heavy-duty pultruded fiberglass and stainless steel. A polyurethane sealant prevents leaks, and the tower utilizes all stainless-steel hardware, so the tower is 100% completely non-corrosive.
The resulting heavy-duty, totally non-corrosive structure benefits all Tower Tech Customers by offering the most robust, industry-leading cooling tower warranty for 15-year parts and labor warranty on the structure.
Tower Tech joined the Creative Composites Group in 2017 after many years of sourcing structural parts from Creative Pultrusions, Inc (CPI) and Kenway Composites – the leaders of the supply of FRP composite products and parts.
Since the majority of Tower Tech's industry-best tower structure uses pultruded fiberglass reinforced polymer (FRP) walls manufactured at the CPI facility, the Group calculated that building the cooling towers at the same location as the pultruded walls meant better production efficiencies. To centralize manufacturing, CPI expanded their campus with a facility dedicated solely to Tower Tech cooling towers' production.
The TT factory is 100 feet wide by 360 feet long, and inside, all the core manufacturing and assembly take place. Every single cooling tower out of the facility follows rigorous quality manufacturing program and is electrically tested and water-certified before being shipped to the customer's location.
By becoming part of the Creative Composites Group, Tower Tech manufacturing became more streamlined, offering a cooling tower that is made in the USA with the highest quality standards.