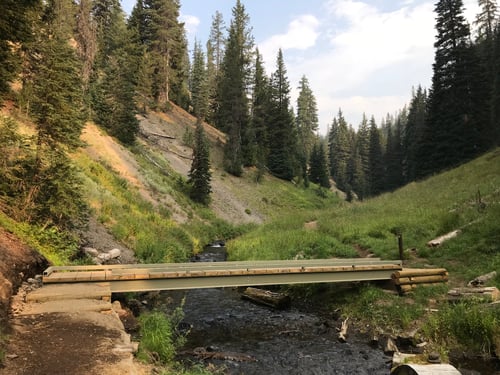 High Strength and No Maintenance
Fiberglass offers significant advantages over other materials in the design and installation of boardwalk systems. Our boardwalks are designed with fiberglass support beams for high strength and no maintenance.
Decking and curbing can be provided in fiberglass, recycled plastic wood, or pressure-treated wood. Depending on your span length and railing requirements, the system can also be provided in a lightweight truss system.
Our system can be shipped as preassembled modular units for quick installation or in individual components for easy assembly on site.
Lightweight Boardwalks with Handrails
Our fiberglass truss boardwalk system is the lightest structural system currently available on the market. This makes it ideal for "Rails to Trails" applications that are supported by existing elevated structural systems such as railroad bridges that require a handrail system. In this type of project, the use of lightweight components is advantageous as they are easily assembled on the existing structure while minimizing the dead load being added.
Installation
Our system can be shipped unassembled or preassembled in modular units. The advantage of shipping unassembled is that the lightweight components can be hand-carried to remote inaccessible locations with no disturbance to the environment. The system can be easily installed by park maintenance crews, contractors, and even volunteers using standard hand tools. No special experience or heavy equipment is needed to install the boardwalk systems.