Creative Composites Group dedicates itself to providing innovative construction solutions through the development of modern materials and cutting-edge technology. FiberPILE, from Composite Advantage, and SUPERPILE, from Creative Pultrusions, are engineered specifically for enhanced pile construction.
FiberPILE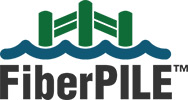 FiberPILE consists of high-strength, directional fiberglass within an extremely corrosion-resistant resin. This make-up allows for an exceptionally strong, maintenance-free piling, ideal for withstanding impacts and corrosion on piers and other marine structures.
Available for manufacturing in diameters from 24 to 72 inches and in continuous lengths up to 110 feet, FiberPILE provides designers the flexibility for optimizing their protection while keeping installation costs low. Composite Advantage's vacuum infusion process ensures consistent and reliable production of structurally sound piles, easily modified to meet the particular needs of your application.
SUPERPILE®
Creative Pultrusions' SUPERPILE® pushes durability to the next level, with electrical-grade fiberglass and high-impact, high-strength polyurethane resin. This material provides exceptionally strong pipe with excellent corrosion resistance, meaning fiberglass pipe piles will not rust, rot, corrode, or spall. Furthermore, SUPERPILE® pipes can be manufactured in smaller diameters and at high production rates.
Between Composite Advantage and Creative Pultrusions, we have developed ideal high-strength, reliable FRP pipe piles for the full spectrum of industry standard pipe pile needs. The SUPERPILE® is supplied come in specific diameters and wall thicknesses:
0" OD with 3/8" wall
12" OD with 3/8" or ½" wall
16" OD with ½" wall
FiberPILE large diameter piles are available in a wide range of thicknesses and diameters:
Standard OD come as 18", 24", 30", 36", and 48"
Piles can be customized for any OD between 18" and 72"
Typical wall thickness is ½" to 1.5"
Customizable walls range from ½" to 2"
No matter the specifics of the application, our FRP pipe piles serve as a versatile option for the broad range of applications in pile construction.