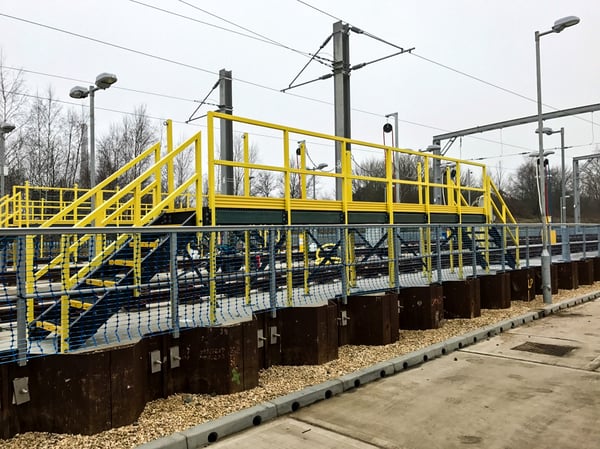 Fiberglass walkways are long-lasting structures that can be supplied to meet demanding structural requirements and operate in corrosive environments. We can provide you with industry-leading pultruded shapes to match your walkway needs. Our extensive engineering, project management, manufacturing, and fabrication team will work with you to design a turnkey walkway solution delivered to your site.
Benefits of Fiberglass Walkways
Corrosion Resistance
High Strength
Low Maintenance
Ease of Installation
High Dielectric Strength (Non-Conductive)
Long Service Life
Types of Walkways
FRP Access Structures
Mezzanines
Equipment Platforms
Maintenance Platforms
Suspended Catwalks
Raised Walkways
Tank Access Platforms
Tank Supports
Pipe Crossovers
Ship Ladders
Our Process
We proudly manufacture all our fabricated products in the USA. Our team develops submittal drawings, allowing you to review and verify the layouts and design parameters. In addition, or when necessary, we provide drawings and structural calculations sealed by a registered professional engineer for your state.
We follow OHSA guidelines and the highest quality assurance standards and fully fabricate your FRP composite structures in our plant. After that, we work with you to ship individual or preassembled components. As a result, this minimizes the onsite installation time and cost. Every project gets its project manager. Hence, a single point of contact. We do this to keep projects streamlined and meet customer's concerns. Our goal is to always provide high-quality fabrication and on-time delivery!