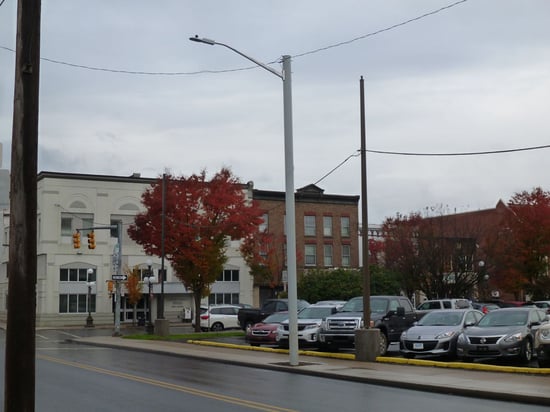 Custom Manufactured Fiberglass Direct Burial Light Poles
CCG manufactures direct burial light poles with added features including hand holes and adaptors for National Electrical Manufacturer Association (NEMA) standard electrical boxes. Unlike wood, steel and concrete poles, the fiberglass reinforced polymer (FRP) light poles will not rust, rot, spall or corrode. FRP light poles are ideal for coastal regions and areas that are susceptible to deicing salts.
StormStrong® light poles are engineered to withstand extreme weather while elevating the architectural beauty of any town or city. Our pultruded light poles feature high reliability when compared to other light poles. The National Electric Safety Code (NESC 2012) recognizes FRP composite poles as having the same reliability as steel poles.
The poles are environmentally safe and will not leach any chemicals into the environment. The poles have inherent fire-retardant attributes and are considered self-extinguishing per ASTM D635 with a flammability classification of (V0) per UL94. The 10" diameter by 3/8" wall (TU440) pultruded round pole weighs just 10.3 lbs/ft and is manufactured with a toughened polyester resin and reinforced with high strength electrical grade fiberglass.
The direct burial poles can be backfilled with concrete, pole set foam, soil or gravel. Need a surface mounted pole? Surface-mounted National Cooperative Highway Research Program (NCHRP) approved break-away and standard bases are available upon request.
Architecturally Beautiful Composite Light Poles with UV Protection
The exterior has been protected from UV degradation and fiber blooming with the inclusion of a 10 mil polyester veil that encapsulates the fiberglass fibers. The poles are available in multiple colors including, brown-gray, light gray and brown. Custom colors are available upon request. Minimum quantities and color match charges apply to custom color orders.
The hollow light poles are available in multiple lengths and are strength rated based on ANSI O5.1 pole classification.
Additional data on the 10" direct burial light pole and other pultruded poles are available in the Composite Utility Pole Brochure.