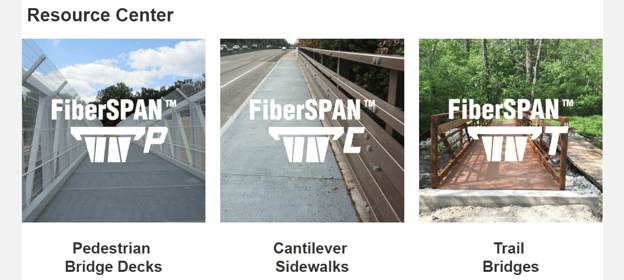 DAYTON, Ohio—(September 7, 2016) Composite Advantage launched its newly redesigned website today on the World Wide Web. A growing number of industries looking for new technologies to solve problems like corrosion, high maintenance and short-lived life cycles are turning to Fiber Reinforced Polymer (FRP) composites for answers. Recognizing the need for deeper, easy to navigate content, the FRP manufacturer has expanded its Resource Center and added multi-level product information and comprehensive case studies populated with vibrant images that graphically tell each project's story.
"We have also added a category that showcases our new FRP waterfront products," says Scott Reeve, president of Composite Advantage. "We have an on-site search engine to help visitors find what they are looking for more quickly. And we've streamlined content to promote faster access by incorporating pictorial icons that act as portals to our bridge deck, trail bridge, cantilever sidewalk, fender protection system, rail and waterfront infrastructure FRP products."
The mobile device and social media-friendly site offers visitors the ability to track Composite Advantage products or browse through the company's video gallery. Blogs, newsletters and up-to-date media coverage provide additional information outlets. 'About Us' details Composite Advantage's unique vacuum infusion process which allows the company to manufacture very large composite structures.
Composite Advantage is the leading manufacturer of very large Fiber Reinforced Polymer (FRP) composite parts [up to 100 ft.] for structurally demanding applications and corrosive environments. CA combines its unique knowledge, innovative design, field experience and efficient manufacturing processes to support its core products - zero maintenance bridges and bridge decks. Other products include vehicle bridge decks engineered to handle fully loaded 90,000-lb. truck-trailers; temporary road mats for energy exploration; and waterfront infrastructure first developed for U.S. Navy bases. Visit www.compositeadvantage.com or contact Composite Advantage at 937-723-9031 or info@compositeadvantage.com.