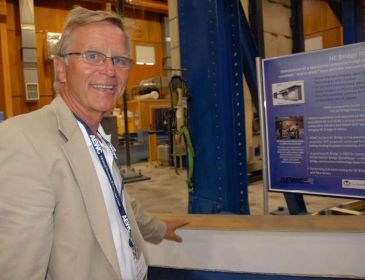 BRUNSWICK — Bridge girders developed by Harbor Technologies won an ACE Infinite Possibility Award from the American Composites Manufacturers Association at their annual meeting and trade show.
Harbor Technologies uses hybrid composite beam technology developed at the University of Maine, with architect/designer John Hillerman, to build bridge girders. The technology is more economical, easier to install, longer-lasting and better for the environment than traditional beams.
The award recognizes products that demonstrate the potential to increase the use of composites. ACMA represents 850 of the country's approximately 3,000 composites manufacturers and suppliers.
Only five awards are given out annually by ACMA. Maine won two of the five, with the University of Maine's work on their composite "Bridge in a Backpack" gaining national attention, and winning the Most Creative Application Award for Composites Excellence.
It was the third consecutive year a technology developed by the UMaine Advanced Structures & Composites Center has been honored by the ACMA.
Martin Grimes of Harbor Technologies greeted U.S. Secretary of Transportation Ray LaHood last August when the secretary visited the center.
"If they can be successful and make this an official test research center for the federal transportation industry, it will be absolutely huge for Maine," Grimes said at that time.
The bridge girders developed by Harbor Technologies are beginning to be used in Maine.
Gov. John Baldacci's Composite Bridge Initiative calls for composite materials to be used in 10 percent of Maine Department of Transportation bridge construction. The Maine DOT is constructing a bridge with Harbor Technologies in Boothbay.
"The composite bridge technologies will clearly be commercialized nationally. From a DOT standpoint, it's important to have options apart from the traditional steel and concrete," DOT Commissioner David Cole said.
Harbor Technologies has been producing pilings made from composites since 2006.
"We have been growing from this, and it will accelerate into unknown proportions," Grimes said.