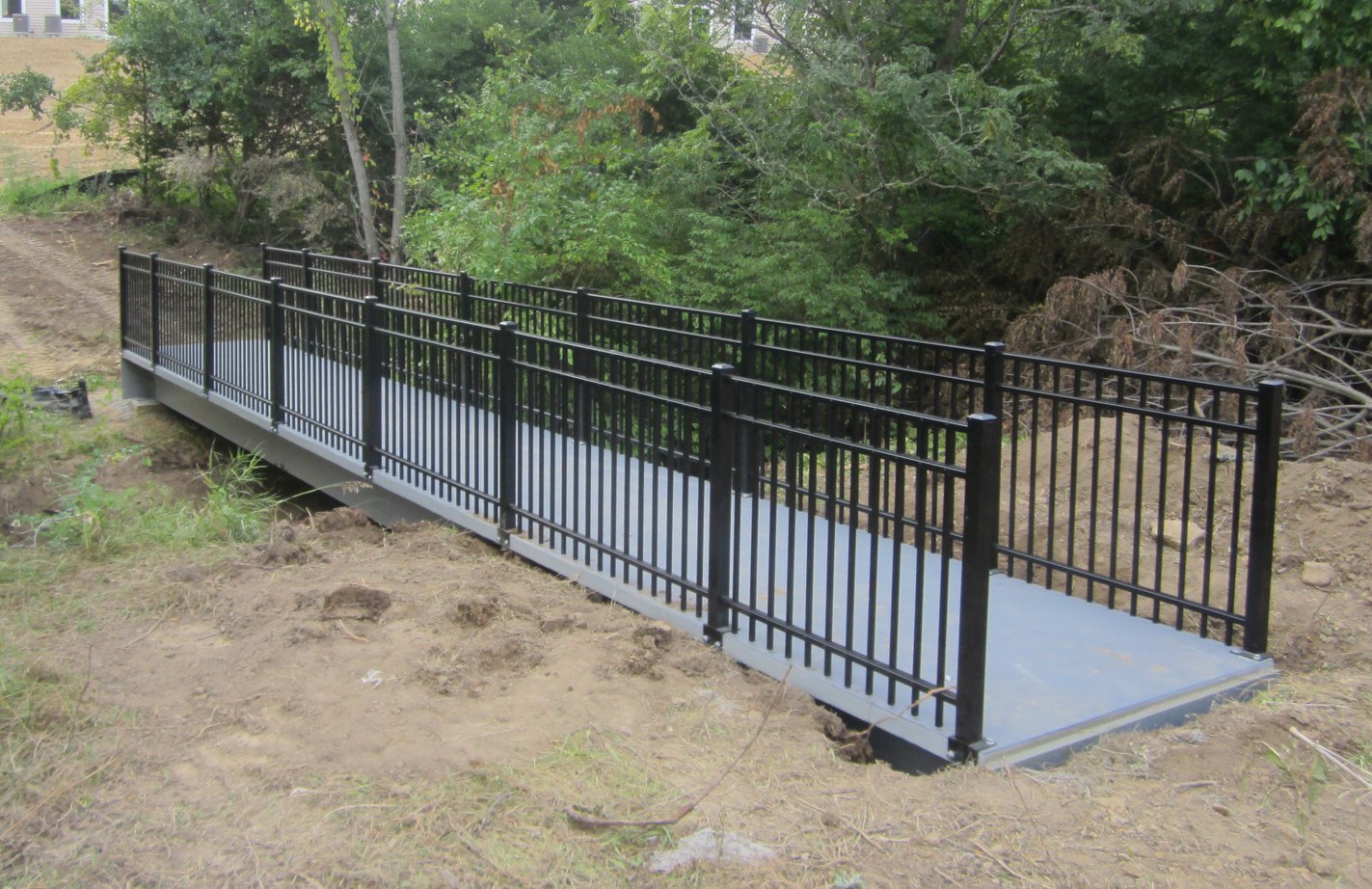 DAYTON, Ohio – (February 26, 2015) – When Columbus, Ohio-based Schottenstein Real Estate Group launched plans to develop a high-end apartment complex in Mason, Ohio it chose FiberSPAN as part of its design for a network of walking trails. The Composite Advantage Fiber Reinforced Polymer bridge gave Schottenstein a zero maintenance solution with aesthetic appeal.
"The developer needed an attractive structure that could support pedestrian traffic over a stream yet require no maintenance," says Composite Advantage President Scott Reeve. "They were also looking for a company that could manage all of the details associated with the project from coordinating permits to actual installation."
The gray 40 ft. long by 8 ft. wide bridge was outfitted with black railing made from corrosionresistant aluminum. FRP Constructors, a Composite Advantage partner, set the abutments by installing helical piles and pouring concrete. A telehandler lifted the prefabricated FiberSPAN bridge into place. Bridge plates at either end were bolted to the concrete. Installation, completed in August 2014, took less than two days.
Composite Advantage is the leading manufacturer of very large Fiber Reinforced Polymer (FRP) composite parts, up to 100 feet, for structurally demanding applications and corrosive environments. CA combines its unique knowledge, innovative design, field experience and efficient manufacturing processes to support its core products - zero maintenance bridges and bridge decks. CA's other product lines include vehicle bridge decks to handle fully loaded 90,000-pound truck-trailers; temporary road mats for energy exploration; and waterfront infrastructure for US Navy bases.
Contact Composite Advantage at 937-723-9031 or info@compositeadvantage.com