DAYTON, Ohio (September 4, 2019) When record-breaking temperatures buckled Michigan, City Indiana's Franklin Street Bridge in February 2019, traffic was brought to a standstill. The 87-year-old crossing—the lakeshore town's only movable [bascule] bridge—crosses Trail Creek, a gateway to Lake Michigan for locals and tourists. The structure uses counterweights to raise and lower its spans to provide clearance for boat traffic. Its' crumbling concrete "leaves" and steel supports needed a quick fix. The LaPorte County Highway Department's contractors and engineers found a light weight, corrosion-resistant alternative with Composite Advantage's fiber reinforced polymer (FRP) FiberSPAN system.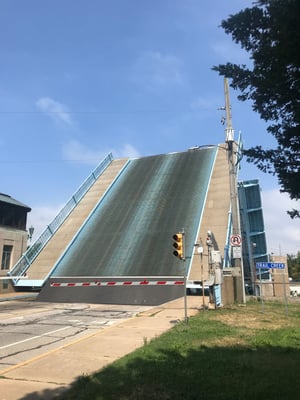 "The traditional approach called for a temporary steel plate until the weather warmed up enough to accommodate the 28-day cure requirement for concrete," says Scott Reeve, president of Composite Advantage. "But that would have taken months. It also meant paying for two repairs and closing the bridge to traffic twice. The need for light weight eliminated most material options. But the accelerated construction value of our prefabricated FRP panels sealed the decision."
The project called for two spans [or leaves] 15 ft. wide, 35 ft. long and seven in. thick. Performance requirements included a 30 psf live load, a vehicle load of HL-93, a deflection rating of L/500 and a deck of 23.5 psf. "Prefab decking that drops in place is especially beneficial for these types of projects," Reeve says. "The flexibility of FRP allowed us to perform design, coordination and review tasks in hours instead of days and without the customary long lag times that you usually have with these jobs."
Composite Advantage prefabricated the panels with mechanical clips for bolting the deck to the steel stringers. A black nonslip overlay of aluminum oxide aggregate was used on the surface. The FRP supplier was able to design, prefabricate, ship and install the panels in just 32 days. Franklin Street Bridge re-opened to commuters and visitors in April 2019.
Composite Advantage supplies innovative fiber reinforced polymer (FRP) products for major infrastructure markets. To create its engineered solutions, CA pairs progressive designs with its capability to mold large parts, perform on-site assembly, and support customer installations. The supplier has been developing lightweight, high-strength, cost-effective FRP goods for structurally demanding applications and corrosive environments since 2005. Many of these products have paved the way for first-time use of FRP composites in infrastructure, rail and water applications because of their performance attributes. The supplier's comprehensive lineup includes bridge decks, trail bridges, cantilever sidewalks and rail platforms to fender protection systems, pilings, naval ship separators and other waterfront structures. CA is member of the Creative Composites Group, a subsidiary of Hill and Smith Holdings PLC.
Visit www.compositeadvantage.com or contact Composite Advantage at 937-723-9031 or info@compositeadvantage.com.