Watching the weather report this week on the snow storm in Washington D.C. reminded me that I hadn't written a blog about my last visit, when it was sunny and warm (in February!). We were in D.C. to support our trade association, the American Composites Manufacturers Association (ACMA), and its annual Infrastructure Day on Capitol Hill. ACMA is the largest trade association for our industry and is involved in many efforts including education, networking, business opportunities and advocacy.
ACMA's Infrastructure Day on Capitol Hill allows us, as businesses and taxpayers, to educate our congressional leaders about the benefits that our materials and technology offer for infrastructure applications. Visiting with key offices every year (read my synopsis from 2016) demonstrates to the officials and staffers that we're serious about our message. It's also important that we remind them of their oversight duties to ensure that provisions of the Fixing America's Surface Transportation (FAST) Act and the Water Resources Development Act (WRDA) pertaining to new technologies are carried out by the responsible Federal agencies.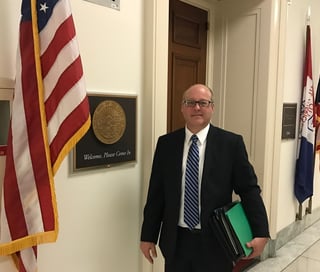 This year resulted in more industry participants and more visits to the congressional offices and agencies. This indicates the growing importance of infrastructure in everyone's thinking; both business and government. There was a noticeably different attitude from the people we met with this year. The Trump administration has a different style and has not presented as many of its goals and plans. This has lead to people paying more attention to many topics because they don't know exactly which way the administration is going to go on many issues, including infrastructure.
As frequently reported, the indications are positive for making renewed progress on infrastructure. It will be refreshing to see the executive branch initiate infrastructure programs rather than just the legislative branch that has been the source of infrastructure discussion over the past decade. We need both branches committed to improving these vital national assets.