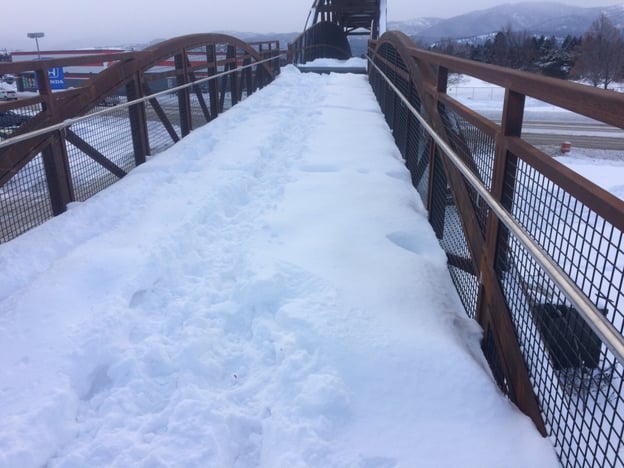 In the midst of the Rocky Mountains, surrounded by a multitude of national parks and forests, lies the mid-sized town of Missoula, Montana. As one might imagine, winters in this region are extreme and include large accumulations of snow. For a bridge installation team, working in such conditions can bring many challenges.
This particular project started when the Missoula City Council saw the need for a pedestrian bridge that would create a safe option for crossing South Reserve Street, a bustling road that runs through Missoula. The bridge would also serve as a convenient connecting point for Bitterroot Branch Trail and Missoula-to-Lolo Trail, attracting pedestrians and cyclists to the area.
Composite Advantage began the bridge deck installation in December 2016, but January 2017 arrived with extreme winter weather conditions and installation challenges. The on-site crew faced a number of problems that slowed their work and turned the simplest things into pains-in-the-you-know-what. Temperatures frequently dropped below zero, not including wind chill, which led to:
Dead equipment. Temperatures dipped so low that equipment wouldn't start and often needed a jump-start.
Icy steel. Inches of ice were building up on the pre-existing steel bridge structure and workers had to chip and/or melt it off so they could finish their work.
Whiteout. On several occasions, it snowed so hard that the crew couldn't keep the deck panels clear of the stuff.
Cold clothes. Constantly digging around in one to two feet of snow created miserably wet or frozen gloves and clothing.
Frozen bolts. When the crew needed to pick up bolts, they ended up frozen to their gloves.
Stiff beards. One of the most problematic issues for the crew was frozen facial hair. Every day.
Though such conditions were very grueling, this probably only made the crew work harder so that they could finish the bridge. You can imagine the sense of relief and satisfaction (and warmth) they felt when they finally had a completed project in front of them.