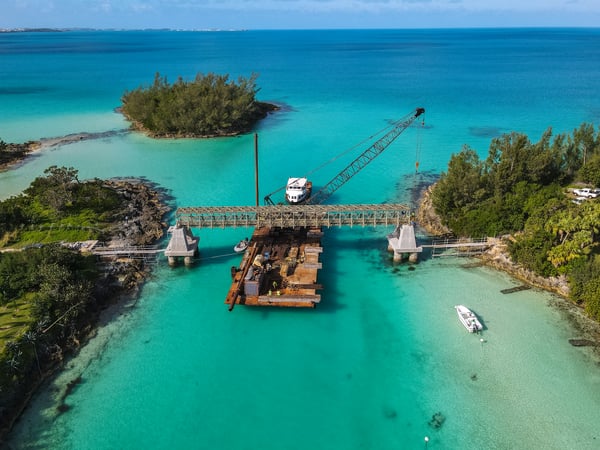 Last week, we introduced you to the longest pultruded fiber reinforced polymer (FRP) clear span bridge in the world. The 152-ft.-long, 8-ft.-wide structure is a jewel in the Friends of Bermuda Railway Trail's project to reconnect the old Bermuda Railway into one single, continuous trail for hikers and cyclists. Green space is important to the British island territory which is 356 times smaller than New Jersey but has a population of more than 60,000 residents.
Surrounded by the North Atlantic Ocean, the impact of salt air on metal, paint and finishes posed a challenge for the group when it came to choosing bridge material. Bermuda—called The Rock by locals—is 21 miles long and 1.75 miles wide. In 2018, The Galvanizers Association released a map that measures coastal distance and metal corrosion. Findings revealed that salt air travels as far as 50 miles inland. FRP's ability to resist the alkaline atmosphere made it an attractive choice. Lower transportation costs and ease of installation offered other advantages.
The Creative Composites Group's E.T. Techtonics bridges are assembled from pultruded profiles. In the U.S., assembled bridge sections would likely be shipped in an oversized load on a flatbed trailer. To go overseas, a shipping container's maximum length is 40 ft. CCG's ET bridge team had to meet a size requirement of approximately 39 ft. when it kitted the light weight bridge components for the sea voyage to Bermuda.
Friends of Bermuda Railway Trail and a small crew met the container, unpacked it and re-assembled the bridge in a manner as straight forward as that of an Erector Set. The entire 152 ft. long bridge was assembled near the project's location. Following pre-approved rigging instructions, the entire span was lifted by a crane and placed on a barge where it was ferried to the installation site.
Originally, a large trestle carried the train across Flatt's Inlet. The structure was 40 ft. high with steep grades on either side. Piers with wooden supports held the track up. The piers were constructed on concrete pilons. Two groups of four pilons remained. Friends of Bermuda Railway Trail wanted to preserve the look and feel of the historic railway and keep environmental disruption to a minimum. Once the barge reached the work site, it was moved into position and lifted onto the existing concrete foundation with a crane. Click here to see video of the actual installation.
The clear span is the first of several FRP bridges that will be installed in Phase 2 of the project currently underway. For the industry, this bridge serves both as a construction milestone for FRP composite technology and for visitors and Bermudians, a window to breathtaking scenery and active marine life.