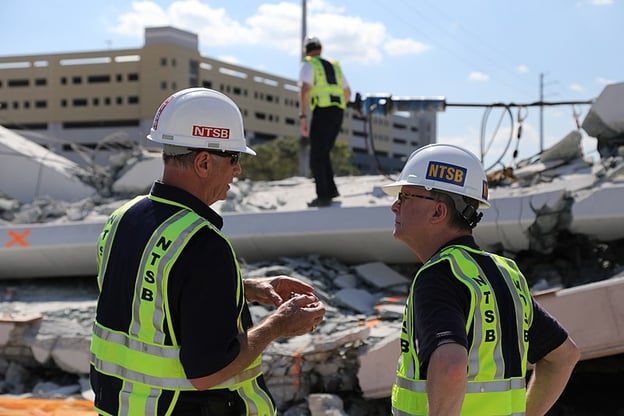 Photo courtesy of the National Transportation Safety Board
People across the nation continue to follow unfolding events around the March 16 collapse of the Florida International University (FIU) pedestrian bridge. Our hearts go out to the victims and their families. As a supplier of Fiber Reinforced Polymer (FRP) bridge products, we're also keenly interested in what went wrong. Since we've received several calls and questions from individuals seeking understanding, we decided to use our blog space to examine the incident and glean some lessons learned.
The 174-ft.-long, 950-ton crossing was made entirely of "self-cleaning" concrete. The main bridge span (40 ft. wide and 174 ft. long) was built on temporary supports alongside 8th Street. On March 10, the span was rotated into place over the street. The bridge was engineered to withstand a Category 5 hurricane and last 100 years.
The pedestrian bridge was built using a method called Accelerated Bridge Construction (ABC). ABC is a safe, cost-effective bridge construction method that uses innovative planning, design and materials in a safe and cost-effective manner. It reduces onsite construction time, contributes to work-zone safety and minimizes weather-related project delays.
Why ABC? Approximately one-fourth of the nation's 600,000 bridges require rehabilitation, repair or total replacement. These projects can add up to traffic delays, detours and other inconveniences, which nobody likes. ABC is one way to mitigate these issues.
On another note, concrete has been a favorite material among bridge deck designers and engineers. However, the need for accelerated construction and zero maintenance, coupled with rising transportation costs, has opened the door for FRP composites – a lighter weight option. FRP is created from two or more existing materials that, when blended, produce a new polymer matrix material reinforced with fibers. The flexibility to mix the right combination of fiberglass fabric, core material and resin means FRP products can be tailored to individual bridge project requirements.
If you compare profiles, FRP's lighter weight gives it several advantages over concrete. Adopters of this advanced material enjoy reduced substructure (concrete, ground connections), superstructure (arch and steel beams) and installation costs. And because a single tractor trailer can handle a larger number of the lightweight panels, transportation costs are reduced. That same tractor trailer can handle fewer precast concrete panels, leading to higher transportation fees.
It's too early to even speculate about the cause of the FIU bridge collapse. We'll have to wait for forensic engineers to determine which factors contributed to the structure's failure. We do know that concrete's heavy weight requires a heavy duty support system. Lighter weight bridges, such as those built with FRP, have the strength to carry live and dead loads and prevent a structure from collapsing under its own weight.