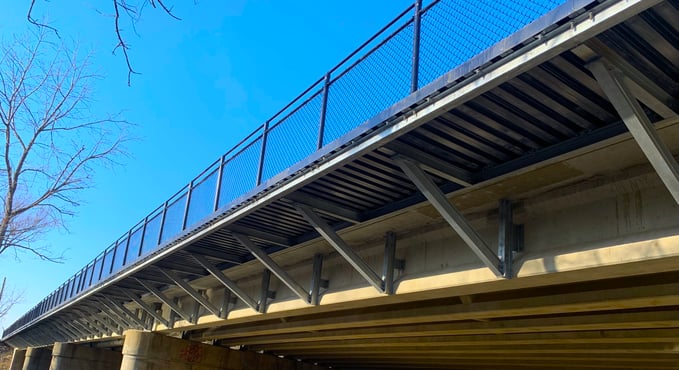 Clinton Township, a community northeast of Detroit, is proud of its network of pedestrian walkways and bicycle paths. Connecting the Civic Center area trails on the west side of the river to the trails near George George Park on the east side of the river had long been a goal of the Township. However, the narrow walkway on the Cass Avenue Bridge over the North Branch of the Clinton River was not conducive to pedestrians or bicyclists trying to cross the river. Users had to climb over the guardrail to access the bridge with vehicles traveling 50+ mph.
In 2019, Clinton Township was awarded a TAP (Transportation Alternative Program) grant from the Southeast Michigan Council of Governments (SEMCOG) to fund an approximately one-mile-long shared use path along Cass Avenue. A large portion of the project included improvements to the existing Cass Avenue Bridge.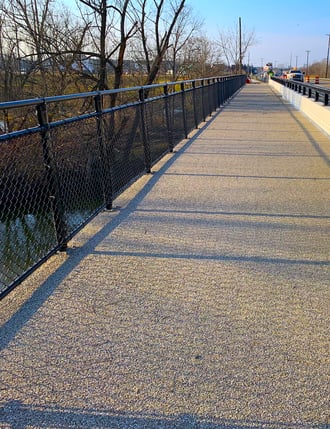 The 4-span, 284-foot-long skewed Cass Avenue bridge is a typical highway bridge consisting of prestressed concrete girders topped with a reinforced concrete deck.
Doubling the width of the sidewalk to 10 feet without overloading the exterior girders of the bridge was a major design challenge. The engineer opted to cantilever a lightweight FRP deck off the existing bridge's side to create the wider shared-use pathway. The 5" thick lightweight FRP decking weighing less than 10 psf enabled the project to be done without extensive modifications to the existing bridge girders. A comparable concrete sidewalk weighs about 60 psf.
The contractor removed the existing concrete sidewalk and relocated the vehicle barrier to create the sidewalk's 5' wide concrete portion. They then installed steel brackets to the concrete girders to support the FRP sidewalk. Next, large FRP deck panels were bolted to the brackets. Finally, the contractor applied a non-slip overlay to the sidewalk's concrete and FRP portions and installed a railing to the FRP deck panels. For more information on cantilever sidewalks, click here.