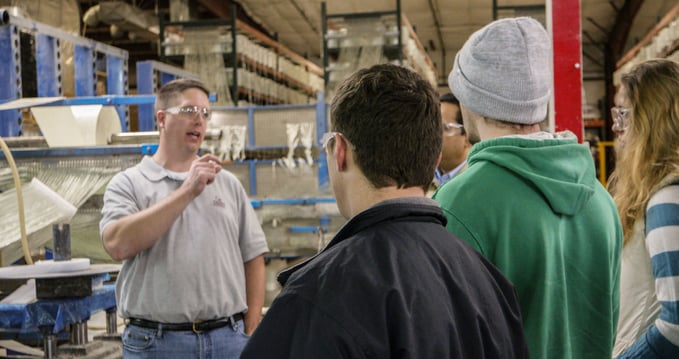 The post-industrial Midwest is finally shaking off some of the rust for more advanced materials like composites. Creative Composites Group (CCG) is proud to be a part of the revitalized manufacturing market in the United States.
The five companies that comprise CCG have deep roots in their respective communities in Ohio, Pennsylvania, Maine and Oklahoma. And we're in these communities because we love them, which is why we continue to invest in local schools, students, workers and economies through internship programs, school visits and wide recruiting efforts. For CCG, educational outreach isn't merely an investment in our business; it's an investment in the future of American manufacturing.
Internships with CCG
Over the last three years, CCG has worked with the local economic development association and Chamber of Commerce in Bedford County, PA, to undertake outreach to local high schools and work with secondary school students to pique interest in manufacturing or engineering. CCG needs the very best talent in civil, chemical, mechanical and electromechanical engineering and uses its internship program to attract individuals who can develop into valuable team members.
This outreach work has resulted in a well-developed, three-year engineering internship program that allows early-career college students to spend time on our shop floor to learn the industry from the inside and help guide their career paths. At the conclusion of these internships, graduated interns may have earned an employment offer from CCG. This internship program benefits all: students, the community, CCG and American manufacturing. By selecting students who express the greatest creativity, drive and innovation, CCG fast-tracks interns' careers and enrich the composites field during their undergraduate study.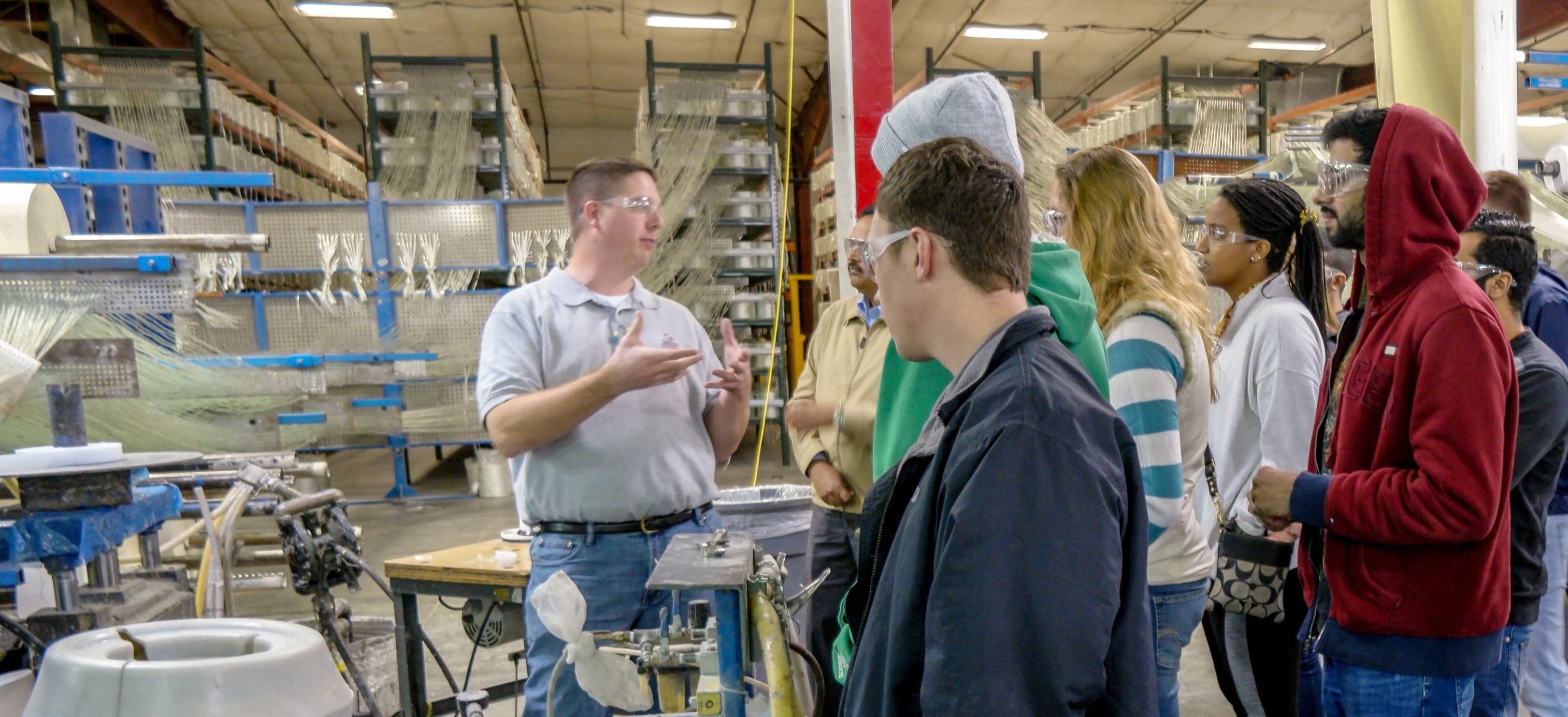 CCG's Alum Bank location also has developed a relationship with the engineering departments at the University of Pittsburgh at Johnstown and has been successful recruiting Engineering grads from Penn State Altoona as well. The opportunity to work with a community-focused, highest-quality company like CCG means that students at smaller campuses of large universities who are deeply invested in their local communities can remain in Alum Bank and surrounding areas after graduation and have an exceptional career experience. Especially for first-generation students, the opportunity to earn an engineering degree from a major university and know they have opportunities for employment with CCG further incentivizes their choice of college and career path. And the benefits to American manufacturing are clear: the CCG internship is helping to train and mentor the next generation of composites manufacturing experts and close the labor shortage facing the AEC industry.
Like these hardworking students in our internship program, CCG is helping reinvigorate America's manufacturing heartland. We are not just survivor manufacturers; our products are innovative and continue to grow. With the help of the talent that we work hard to identify, attract and retain, we'll continue to help revitalize the industrial U.S.
Contact us for more information on our internship program, on how CCG invests in local communities and for inquiries about engineering outreach.