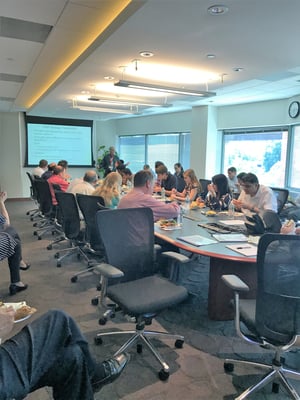 Do you need to rehabilitate a bridge that is deteriorating? Looking for an alternative to creosote-soaked, timber piles? How about a ferry fender that won't rot? Or maybe you need a new rail platform that can resist chemicals and high foot traffic? Whether you are a design engineer, a bridge owner or a state agency, tackling infrastructure maintenance and replacement tasks can be challenging. Fiber reinforced polymer (FRP) composites offer a zero maintenance, corrosion resistant alternative to traditional steel, concrete and wood. FRP's design flexibility means it can be tailored to a project's unique requirements.
But how do you know if FRP is right for your application? Our Lunch & Learn Program offers an effective venue that allows your organization to sit down with technical experts that speak your language yet have the knowledge and field experience to show you what FRP can do. We discuss the FRP composite design and what technical items are critical for infrastructure. We use case studies that are applicable to you; whether vehicle bridge decks, pedestrian decks, rail platforms or fender protection systems.
Have a big group? We can bring our information-packed presentation to your facility. We also have the option to schedule a webinar for your team. You don't pay a thing and each attendee earns one professional development hour (PDH).
Here's a quick preview. Did you know that…
FRP is almost 90 percent lighter than concrete?
FRP is as strong as steel?
FRP products are prefabricated for economies of scale and quick installation?
FRP has a lifespan of 100 years?
Contact us today to find out more about this educational opportunity whether you have current application or want to know more about FRP as the right solution on a future project.
Find out more information on our Lunch & Learn here.