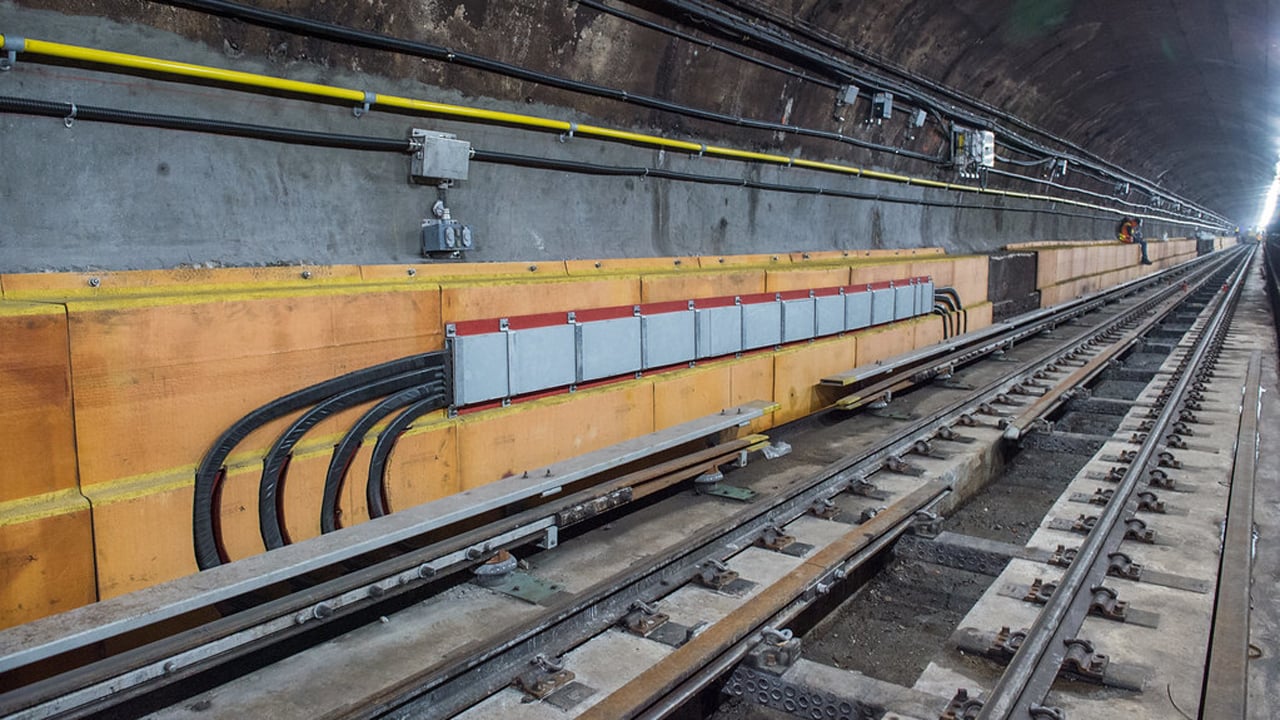 "It's a bird! It's a plane! It's Superman." Or in the case of New York City's Canarsie Tunnel, the superhero was fiber reinforced polymer (FRP) composite shrouds. In our last blog, we revisited the effects of Superstorm Sandy on the East coast in 2012. Parts of New York City near lower Manhattan, Brooklyn and Staten Island flooded, leaving the subway system paralyzed. Storm surges also flooded the Big Apple's Canarsie Tunnel, causing rapid deterioration of its concrete duct bank. The safety hazard threatened to derail the L-Train and interfere with its ability to ferry commuters back and forth between Brooklyn and Manhattan.
Damage to tracks, signals, switches, power, signal and communication cables, lighting, cable ducts and bench walls racked up a $477 million demolition and reconstruction bill.
The use of concrete to make the repairs dictated closing both the tunnels and the L-Train for 15 to 18 months, a scenario that would leave nearly 400,000 commuters high and dry.
In the first such application of its kind, FRP shrouds made it possible for trains to continue running, averting an economic meltdown for the boroughs. The MTA was able to complete the project in April 2020—three months ahead of schedule and for $100 million less than the original cost quote. The design flexibility and performance properties of FRP allowed the material to be custom molded to encase the tunnel's damaged sections versus demolishing and rebuilding those portions.

The material's versatility also means its makeup can be tailored. In this case, phenolic resin was used to meet non-combustibility, fire, smoke and toxicity requirements. Special heated tooling had to be developed for the project because phenolic resin requires heat to cure. The production cell was set up in four weeks and produced 20 parts per day to meet an aggressive delivery schedule. Parts were contoured like a step to keep pieces of concrete from falling on the track and to protect cables. FRP shrouds were 49.5 inches high, ½ inch thick and weighed 160 pounds each. The shrouds were light enough to be carried by two workmen. Composite Advantaged produced 742 shrouds five feet long, 22 shrouds 10 feet long and 27 11-foot-long shrouds with ladder features. The top of the shrouds provided ingress and egress for maintenance personnel as well as passengers in the event of an emergency stop. Composite Advantage applied a bright yellow non-slip surface to enhance safety. While FRP is used in large structures like bridges, bridge decks, rail platforms and waterfront infrastructure, this project illustrates the chameleon-like nature of the material and its ability to adapt to its surroundings. If you have a problem you can't solve, call us. We'd love to talk with you about it.
Don't forget to sign up for our newsletter to read more about FRP shrouds and other cool facts about composites.