There is nothing more rewarding than when a customer dominates the competition because a newer technology took their product or system beyond its intended capacity or capability. More often than not, it is a key component or enabling item that makes the product excel. But it is not always something that is readily apparent to the user.
This is often the case with fiber reinforced polymer (FRP) composites. It is one of the most versatile materials available, but often the unsung hero in end use products. If a manufacturer or OEM needs performance attributes such as light weight, corrosion resistance, design flexibility, high strength, energy absorption or electrical insulation, then FRP is the optimal choice. Designers well versed in their technical discipline and product markets, are typically not familiar with composites and the wide range of design flexibility they provide. To unlock the potential FRP has to turn an ordinary product into something extraordinary, he or she needs an experienced design-build supplier; not a conventional manufacturer.
Creative Composites Group is able to take a customer's performance requirements, design to incorporate FRP and then transition the part into a manufacturable product. The 'design' phase includes evaluation, analysis, testing and iterations to identify the right answer. Also key is having many manufacturing processes under one umbrella to match the part to the right process. As the innovation leader when it comes to implementing composites in a broad range of applications, CCG has the experience to efficiently deliver the component that will take a product beyond the conventional definition of success.
As I mentioned, in most cases, users don't realize that our composites are at the core of what makes the product work so well. The composite part may be hidden because it is inside a system or it may be part of a trade secret that helps the product maintain its commercial success over other competitors. Many times, our most innovative designs cannot be publicly discussed because we and our customers do not want to erode these market leading positions. The customer's name and brand is usually what attracts the end user to purchase a specific product or system. To see our contribution you have to look behind the label.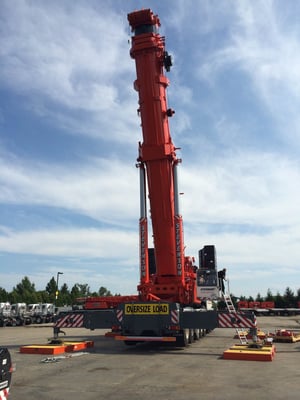 While it is easy for CCG to show impressive infrastructure case studies, it is not as easy to provide a wide range of public examples of parts we have manufactured for OEM customers. One example that we can discuss is FRP crane outrigger pads. We designed a series of outrigger pads for larger cranes that required a higher level of performance than plastic or wood pads in order to operate with high loads in soft soil conditions. The primary objectives were lightweight for simpler mobilization at construction sites; and high-strength load distribution. FRP composites easily delivered on the lightweight criteria. The tougher task was achieving the right stiffness and size to distribute the crane load over a large area while avoiding soil compression which would destabilize the crane. The bidirectional, internal grid structure of our molded sandwich panels was the design feature that allowed the pads to fill the market niche.
If you are looking for a part requiring the attributes inherent in FRP composites, then contact CCG for design-build services to make your product successful.