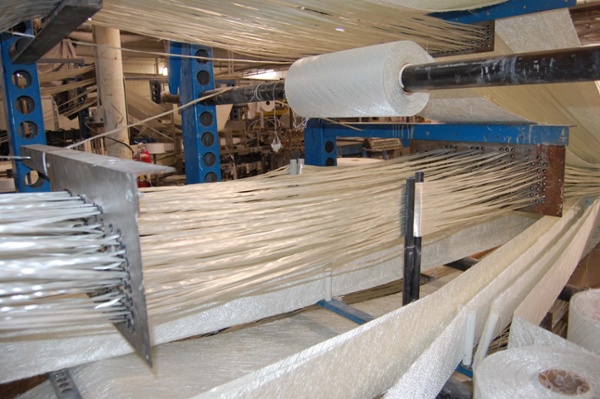 Besides being an engineered material, one of the benefits of FRP composites is the range of different manufacturing processes available. The key is matching your product to the right process. Proper selection affects structural properties, size, cosmetics and the all-important price. Four of the most common processes are:
Pultrusion

- a continuous manufacturing process that is used to make fiber reinforced polymer (FRP) pultruded profiles with constant cross-sections. Fiberglass reinforcements, in the form of roving and mats, are saturated with resin and channeled into a heated die. The profile exits the die [in a solid state] in the form of the desired cross-section.
Vacuum Infusion

- (VIP) processing uses atmospheric pressure to drive resin into dry fiber layers after the vacuum has pulled the bag down and compacted the fibers. This is the most economical process for large parts at low to medium quantities.
Filament Winding

- an automated process that applies resin-saturated, continuous strands of fiber reinforcements over a rotating cylindrical mold. This process creates parts that can handle high operating pressures.
Hand Lamination -

resin is poured into an open mold containing r

einforcement fibers. The composite cures or hardens while exposed to the air. Tooling cost for open molds is typically cost efficient, making this technique suited for prototype and low production quantities. This process also easily incorporates gel coats for cosmetic surfaces.
Choosing the best process for your application means evaluating a product's requirements and the attributes that will be fabricated using composites. For very large parts in small to medium quantities, the vacuum infusion process is the most economical. Filament winding provides cylindrical shapes for small to large quantities. Hand layup works for a diverse range of shapes and sizes in small to medium quantities. Pultrusion is ideally suited to large quantities; making it the go-to process for high volume production of constant cross-section, continuous parts.
Most companies typically specialize in one or two processes. That's why it's important to find a group with a wide range of options for FRP processes. You don't want to try and force your product into a manufacturing process because a company's offerings are limited. Design experience and know-how are equally important when it comes to making sure you have the best FRP manufacturing method for your part.