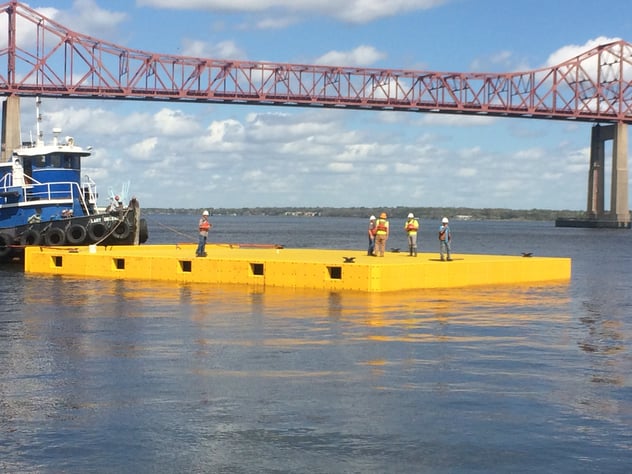 Composite Advantage has been fabricating and shipping large, highly loaded fiber reinforced polymer (FRP) composite parts for more than a decade.
In the summer of 2013, our team supplied Haverhill, Massachusetts' historic Rocks Village six-span steel truss with the world's largest FRP vehicle bridge deck. Able to minimize the structure's dead load, the 809 ft. long FRP bridge deck had a deck area of 18,776 sq. ft. In 2010, we developed FRP camels that met and exceeded Naval Facilities Command (NAVFAC) requirements for berthing submarines. Since then we have prefabricated and installed 15 sets of universal FRP submarine camels. In 2017, we produced our first set of FRP camels for Mayport Naval Station in Jacksonville, Florida. The CVN camels took to the water to protect the station's piers and the hulls of the nuclear-powered aircraft carriers. Each FRP composite camel is made up of five modules that contain numerous panels bonded together. The approach makes it possible to trailer the modules to the shipyard. Once on-site, camels are assembled to their full size of 56 ft. wide and 63 ft. long. The structures weigh in at 325,000 lbs. each, but FRP gives the camel a natural buoyancy and allows it to be easily towed into place by tugboat. The product is especially attractive because of its low maintenance costs and long life cycle in a saltwater environment.
Creating designs on paper is one thing, but the ability to fabricate very large structures is somewhat of an art form. We combine a proprietary core material with special molding techniques that allow us to make products like the CVN camel. While the FRP recipe one uses is certainly important, there are other elements essential to the fabrication of large composite structures that often are overlooked.
You need personnel with the expertise to manufacture large parts successfully. My business partner [Vice-President] Andy Loff graduated with a Bachelor of Science degree in composite engineering from the only university in the nation [Winona State] to carry that degree program. Another of our employees, Stuart Wright, is a second generation developer of composite molding processes.
Secondly, there is a lot of material cost involved with large parts, so developing the right molding methods—ones that are both efficient and cost saving—is a must. Vacuum infusion of large parts requires a strong understanding of chemistry and physics to properly mold parts. Our personnel have the skill sets to use VIP for a wide range of sizes and shapes. We also infuse parts from the inside out so we can visually monitor the process.
Transportation is another key factor that has to be considered when designing a part. Oversize loads up to 12 ft. wide cost a little more to ship by truck, but the cost savings you generate by manufacturing fewer large parts and [faster installation] makes the upfront cost worth it.
Need big parts? We can take the guess work out of your next large infrastructure project. Give us a call.