This month Hillside Pedestrian Bridge in Ohio's Cuyahoga Valley National Park got a spring makeover just in time to reopen the span to visitors anxious to leave winter behind and enjoy the outdoors again. But this isn't the first rehabilitation project for Hillside. The National Park Service got barely a decade of use out of Hillside's wood bridge deck before rotting timbers and corroding steel forced the federal agency to close the structure and look for a longer lasting solution. Weathering steel, a new surface wear product and different color choices were some of the features that attracted the National Park Service to an FRP composite product.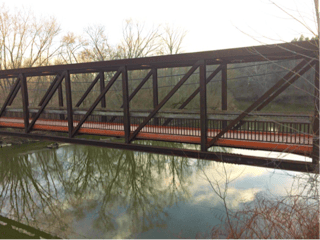 Typically FRP bridge deck panels are easy to lift and set into place with the help of a small crane system. The Hillside bridge project presented some unique challenges. The deck was to be placed on top of a new steel substructure with railings that could not be removed during installation. This meant FiberSPAN™ decking panels had to be laid at one end of the bridge and slid into place.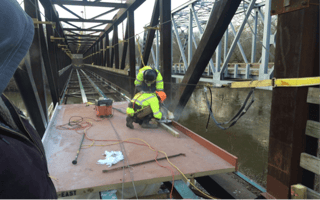 A steel bolt and clip system connected the panels to the substructure accessed by scaffolding hung under the bridge. A high elongation sealant provided the finishing touch. Panel joints are sealed to prevent water from dripping between the panels and damaging the steel substructure in the long run. A quartz aggregate wear surface provided non-slip texture and color.