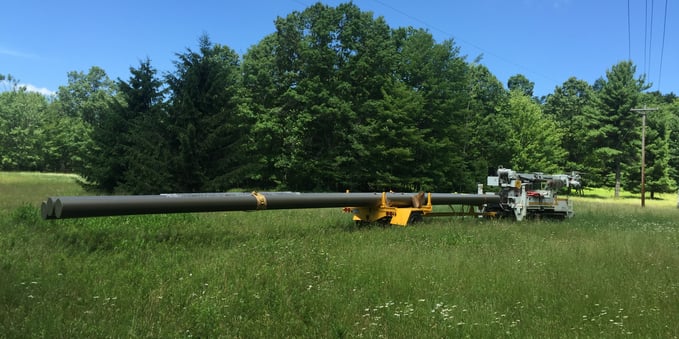 Any utility providing power to rural areas faces unique challenges. So too do utilities serving areas that experience regular, extreme weather events. One Maine utility had to address both.
The utility faced several challenges: Customers in rural Maine were geographically dispersed with harsh, unpaved terrain often in between customers and power hubs. And the area is hit hard each year by deep freezes, thick snow and ice and heavy rainfall. Any one of these factors would be a big challenge, and the utility company knew they needed to invest in utility poles that could overcome all of it.
The utility contacted Creative Composites Group to discuss StormStrong®, our new line of utility poles. Made of pultruded Fiber Reinforced Polymer (FRP), StormStrong poles had the qualities the utility needed to serve rural Maine – and then some.
Resilient in the Toughest Conditions
Being so far north and with large areas of coastline, Maine is no stranger to precipitation. In a regular year, Maine will see an average of 43 inches of precipitation, and over the last decade, Maine has experienced five disaster-level weather events. Maine's weather includes hurricane-force winds and rain as well as blizzards and deep freezes resulting in heavy ice loads that severely task infrastructure. In good weather, Maine faces a different infrastructural problem: woodpeckers. These birds are a heavy burden on wood poles, reducing the poles' strength with each new hole pecked.
StormStrong poles are equal to Maine's toughest conditions. They hold up in the extreme cold – performing reliably in the even colder conditions of Alaska. Because they are made of FRP, StormStrong poles in fact increase in rigidity in the cold and with minimal or no uptake of water. This avoids a common problem with wood: Any time wood poles absorb water, they weaken. And Maine gets a lot of water. StormStrong® poles are also inhospitable to woodpeckers.
FRP poles are also strong in manmade conditions: FRP has a very low coefficient of variation (5%) compared to wood (around 20%). Where wood automatically takes a strength reduction, per the National Electric Safety Code, of .85 or .65 depending on the grade of construction to account for the unknowns of wood, StormStrong poles are consistent and predictable. Because of this, these FRP poles can handle both transmissions of high voltage power from powerhouse to substation and distribution from substation to customers. Their strength makes them more reliable for higher-risk transmission and avoids the risk of fire associated with failing wood poles.
Safer Over Roads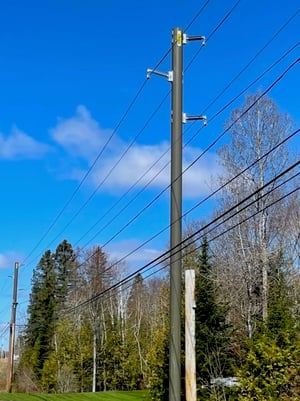 Placing powerline poles in developed areas is relatively straightforward. But this Maine utility had to provide power to rural customers across lots of undeveloped land. This means limited road access across rough terrain. StormStrong FRP poles helped here too: They are so lightweight that they can be hand-carried or dropped off by helicopter, something impossible for heavier materials.
And installing StormStrong poles along roads is much faster and safer. FRP poles are more flexible than steel, so if, for example, a tree falls on a wire in an extreme wind event, FRP poles will absorb 10 times more impact energy than a steel pole and two times more than a wood pole of similar cross section. This not only makes for a more resilient grid but also helps keep live wires off roadways.
Even the process of road crossings for the grid is simpler with StormStrong poles. When a utility needs to cross a road, the state's Department of Transportation must give permission to temporarily close the road. No one wants to extend the necessary level of coordination and disruption – but not uncommonly with some wood pole installations, the process repeats every 10 years as the pole weakens or fails inspection. FRP poles break the cycle with a long service life of consistent performance even in harsh conditions.
Protects Environmentally Sensitive Areas
Part of serving any community is keeping residents safe. Another reason this Maine utility chose StormStrong FRP poles is their excellent performance in environmentally sensitive areas. Residents relying on well water cannot have their water tainted by the chemicals often added to treat and strengthen wooden poles, like Penta. By using non-leaching FRP, the Maine utility could avoid the logistical problem of keeping treated wooden poles at least 75 feet away from wells. Choosing StormStrong meant doing right by their customers and the environment.
StormStrong poles stand up to the most extreme weather, terrain and environmental conditions to help create a resilient grid and to protect utility customers. Contact us today to discuss how FRP poles as the resilient solution you need.