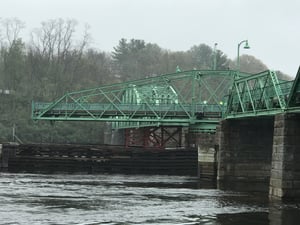 Other bridges move out of the way! The latest specialty bridge is coming. That is, movable bridges of course. We have already briefly discussed a few types of movable bridges in our other blogs, including bascule, transporter, tail bridge, drawbridges, and submersible bridges. However, it is time to swing into action and discuss swing bridges.
Understanding Swing Bridges
A swing bridge is exactly what it sounds like. It is operated by a support structure in the middle, with a vertical locating pin and a support ring at the center of gravity. This allows the bridge to pivot horizontally. If it is in the closed position, it serves as a normal bridge, allowing pedestrians to take a nice stroll across a canal or river, and vehicles to get to their destination. The swing span changes direction so water traffic can move through. Think of a swing bridge like the spinner from the game Twister. The center pivots, and the rest of the structure rotates as a single piece.
A typical swing bridge is designed to swing 90 degrees, but some only rotate 45 degrees. Positive advantages of swing bridges include the fact that they cost less than other movables, they low to the body of water, and extremely spatially efficient. They also require no counterweights. Disadvantages include the requirement that the width of the water channel be reduced due to the center pivot being in the way. There are currently 1,349 swing bridges in the US. They are practical, serve two purposes, and are cool to look at!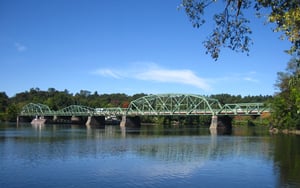 Composite Advantage has two notable projects that are swing bridges. Like all our bridges, the swing ones include FRP (Fiber Reinforced Polymer) decks. This makes the bridge more durable and light weight, which is convenient when it must move multiple times a day. The Rocks Village bridge in Massachusetts has six spans with the third as a swing span. The FRP deck was installed as part of a 2013 rehabilitation. The pivot point is in the center of the span. We are also supplying the deck for an Ottawa bridge that has the pivot point off center. This will be a well-coordinated balancing act.
We spend so much time focusing on the bridge that we do not think about what goes through it, which can be its own story. Typical things that go through swing bridges are sailboats and barges. But the swing bridge in Rocks Village had a house travel through it. Yes, you read that correctly, a house. Don't believe me? Check it out for yourself!
We plan to do more swing bridges, and hopefully get cool stuff travel through them as well! We've got a great movable bridge infographic if you'd like to learn more about them through pictures.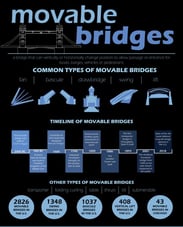 If you'd like to learn more about FRP and our other projects we've worked on check out our resource center.