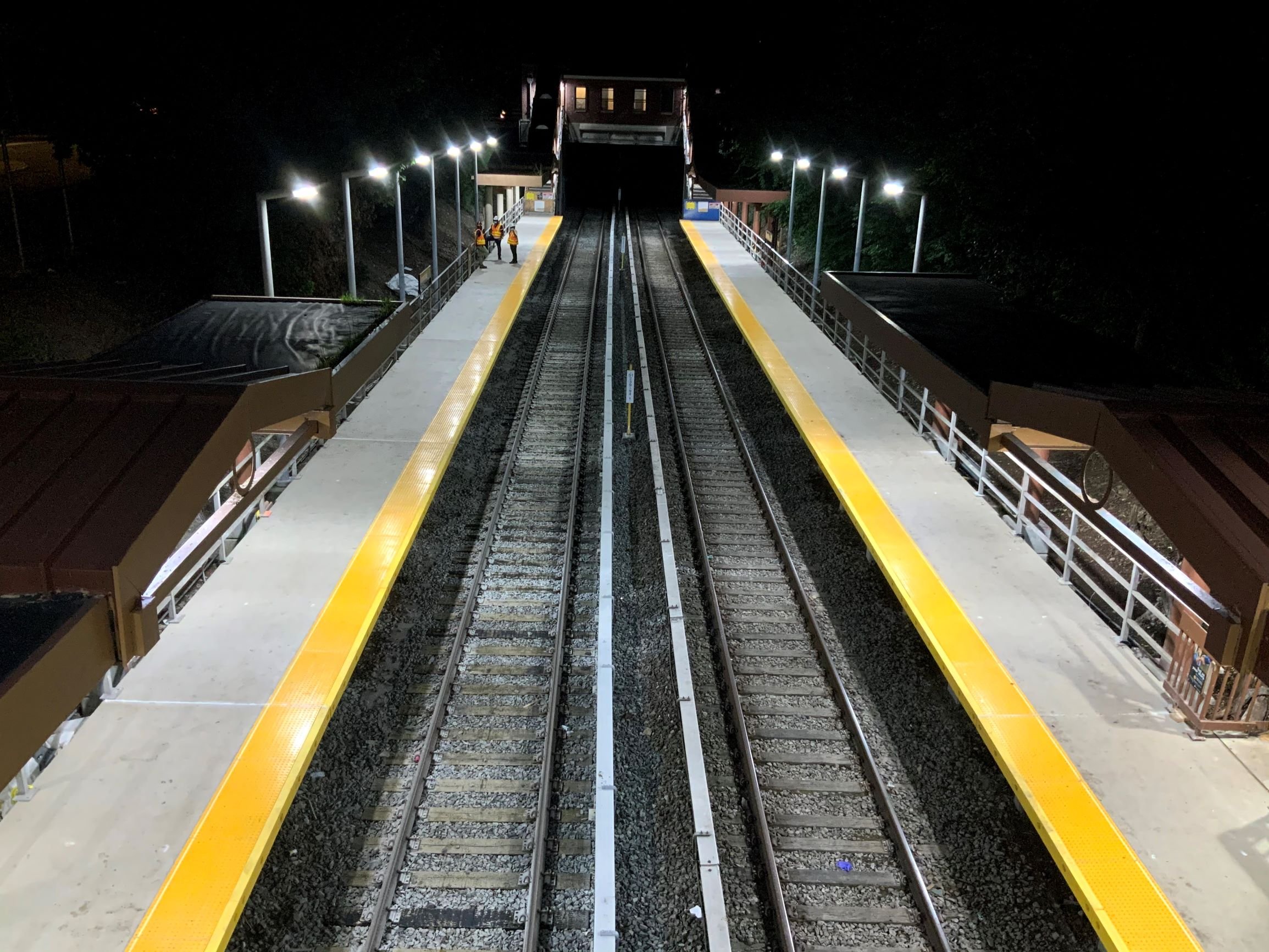 Last week, we introduced you to Annadale Rail Station in Staten Island, New York and took you on a short walk through its storied history. Marrying advanced technology with history to preserve a site's heritage while ensuring its function and performance is a sweet spot for fiber reinforced polymer (FRP).
For 160-year-old
Annadale Station
,
the integration of FRP also meant a new lease on life when concrete sections of the platform began to deteriorate. In 2019, Metropolitan Transportation Agency (MTA) began looking for options. Light weight, durability and corrosion resistance paired with a longer life cycle made the material an attractive choice. The advanced composite material caught the attention of RailWorks, a specialist in rail transit and track applications.
In 2017, we introduced very large prefabricated platform panels to speed up installation for time-sensitive projects that can't afford lengthy down times. We manufacture our composite rail platforms to NFPA 130 and ASTM E-84 Class 1 standards for fire resistance. Nonslip surfaces for passenger safety are part of the package. Tactile warning tiles and rubbing boards are usually installed in the factory before being shipped to the worksite.
Staten Island RailRoad's Annadale Station supports local and express train service at Annadale Road and Sneden Avenue on the main line. The north entrance has a street level brick stationhouse and provides access to nearby parking. At the south end, passengers can reach both platforms by stairs or an overpass. Trains take about 30 minutes to reach the ferry terminal in St. George for the 25-minute crossing to Lower Manhattan.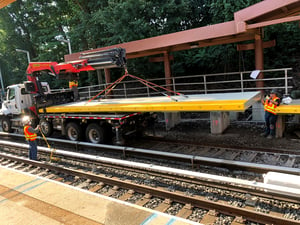 The FRP slab panels were 31.5 ft. long each to support fast installation. The composite slab configuration was the appropriate design choice for this project due to the condition of the concrete piers that supported the platforms. Seven FRP slab panels were installed on each side of the station and totaled 220 ft. long and 8 ft. wide respectively. Panels were cross-sloped for water drainage. Platform surfaces have a shop applied non-slip overlay that was selected to match the color of the adjacent, aged concrete. Warning tactiles with photoluminescent stripes completed the platforms' safety features. A rub rail was also included. Each platform was installed in a single night without disruption to train schedules or riders.
Do you have a railroad station that needs repairs, restoration or rehabilitation? Call us. We'd love to talk with you about your project.