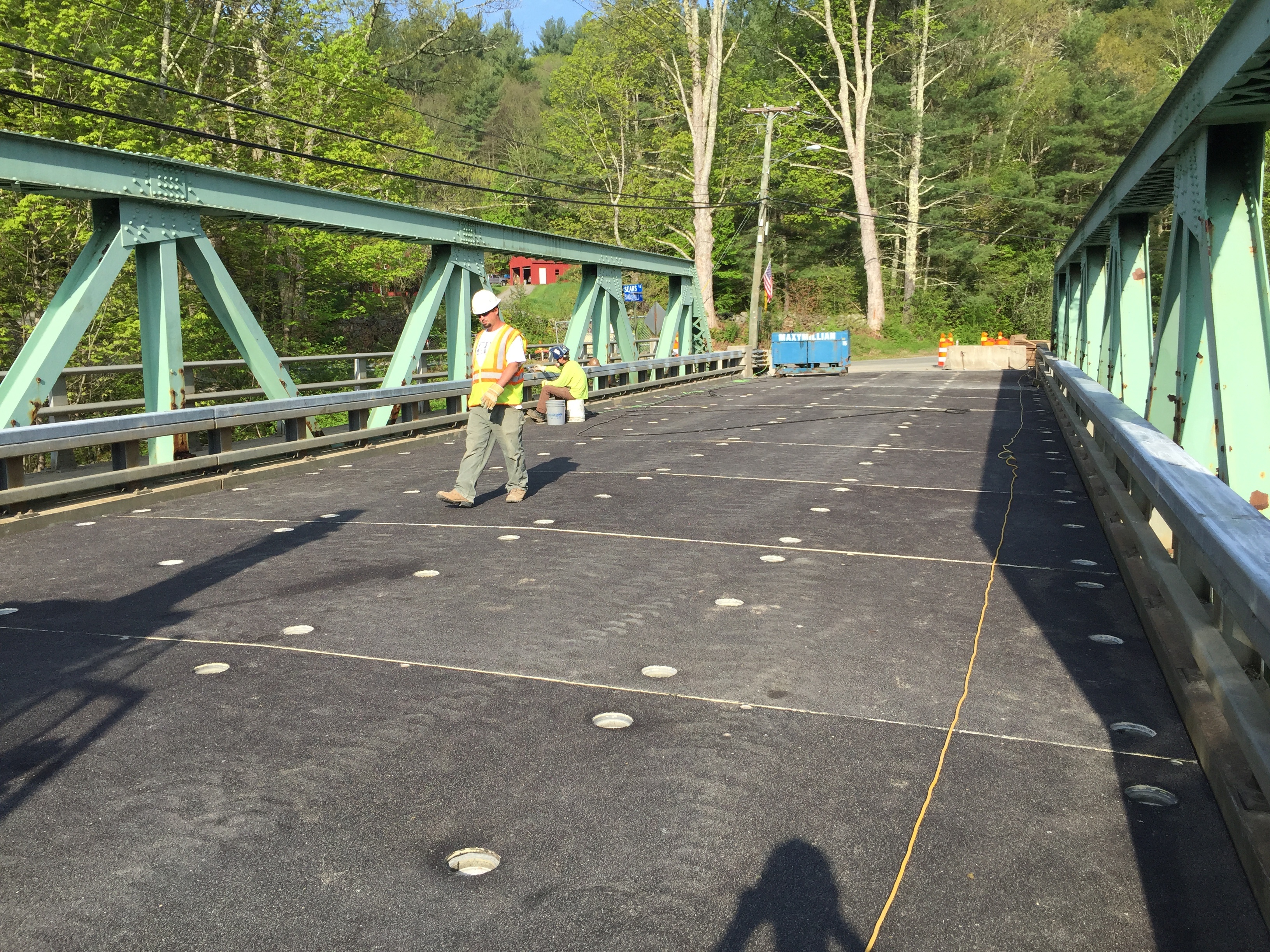 DAYTON, Ohio (August 6, 2018) Sandisfield, Massachusetts received a $1 million grant in 2017 to rebuild Rugg Bridge on Route 57 following years of wear and tear. The pony truss crossing has carried residents and travelers over the Clam River since 1938. A steel grid/concrete deck weighing 60 lbs. per square foot created a dead load that was too heavy for the aged structure. The Massachusetts Department of Transportation (MassDOT) needed a lightweight option that could balance high performance with the need to preserve the span's historic character.
MassDOT chose FiberSPAN based on its track record with another state project. In 2013 Composite Advantage supplied the world's largest fiber reinforced polymer (FRP) composite deck to Haverhill's Rocks Village vehicle bridge. Built in 1883, the six-span steel truss structure is the state's oldest movable bridge. Its swing span permits the passage of boats and barges, and the rehabilitation added 18,800 sq. ft. of new driving surface to the bridge. Inspections since the deck's installation have found panel-to-panel joints, span joints and wear surface in like new condition.
Rugg Bridge totaled 123 ft. long with longitudinal steel stringers spaced 6 ft. 2 in. on center. FiberSPAN deck panels were 25 ft., 11 in. wide and 10 ft. long with a thickness of 7 7/8 in. The FRP deck and its wear surface, a black Matacryl (aluminum oxide), weighed just 23 lbs. per square foot. Bolted shear studs connected deck panels to steel stringers and floor beams. Specifications included AASHTO HS-20 vehicle plus impact loading, a 0.9 environmental durability factor, L/500 maximum deflection requirement, a dead load with bending strain/shear strain maximum of 10 percent and a service load plus dead load with bending strain/shear strain maximum of 20 percent. The short span opened just before Memorial Day weekend.
Composite Advantage is an engineered solution supplier for Fiber Reinforced Polymer (FRP) products for major infrastructure markets. CA pairs innovative design and unique technology with efficient manufacturing processes and in-depth field experience. More than a decade of developing lightweight, high-strength, cost-effective FRP goods for structurally demanding applications and corrosive environments has helped the advanced materials manufacturer create a comprehensive menu of products ranging from pedestrian bridge decks, trail bridges, cantilever sidewalks and rail platforms to fenders, pilings, ship separators and other waterfront structures.