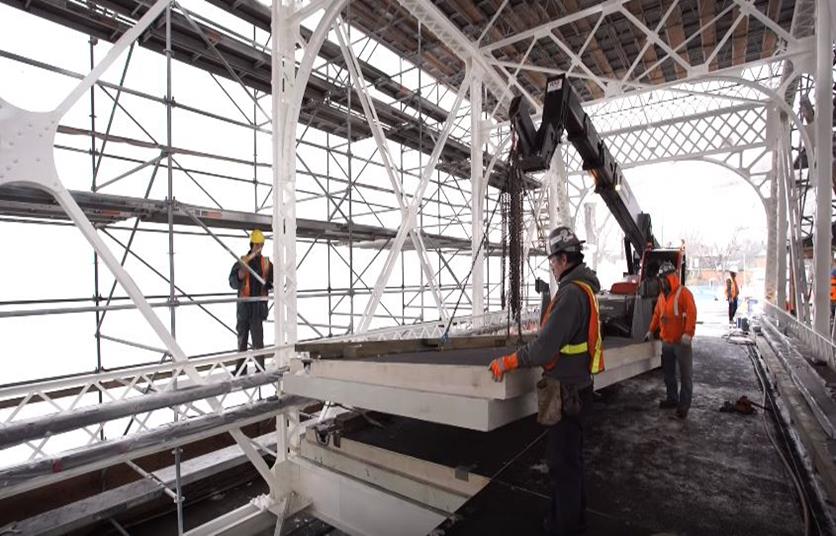 DAYTON, Ohio - (February 9, 2016.) - When corrosion of the existing steel bridge deck grating supporting Ottawa, Canada's historic Minto Bridges East and Center closed the spans to vehicular traffic, designers began looking for a durable, low-maintenance replacement. The truss bridges, built between 1900 and 1902, also needed a lightweight solution. Research led city engineers to choose a fiber reinforced polymer composite bridge deck system.
Dayton, Ohio-based Composite Advantage's FiberSPAN product won the competitive bid over fiberglass wood decking. "Quick installation was another deciding factor because contractors were under a deadline to get the Minto Bridge East deck installed before winter weather set in," says Scott Reeve, president of Composite Advantage. "Also, our products are integrated with features that make a contractor's job easier and more cost effective."
The FiberSPAN bridge deck system was prefabricated with bridge connection points, curb attachments and a shop-applied polymer concrete wear surface. In addition, deck panel thickness varied from 14 inches in the center to an exterior of 12 inches to provide a molded cross-slope for water drainage. Fourteen deck panels were engineered to meet 75 percent of the CL3-625-ONT service load (equivalent to a 16,600 pounds wheel load) and an L/400 deflection requirement. The 130-foot by 19-foot bridge deck was supported by floor beams at a spacing of 18.3 feet.
Contractors completed installation of the 130-foot long, 19-foot wide Minto East Bridge deck in December 2015. Prior to delivery, Composite Advantage coated deck panels with Matacryl (aluminum oxide), a wear surface product which provides superior durability and environmental protection. Work on the Minto Bridge Center is expected to be completed in summer 2016.
Composite Advantage is the leading manufacturer of very large Fiber Reinforced Polymer (FRP) composite parts, up to 100 feet, for structurally demanding applications and corrosive environments. CA combines its unique knowledge, innovative design, field experience and efficient manufacturing processes to support its core products - zero maintenance bridges and bridge decks. CA's other product lines include vehicle bridge decks to handle fully loaded 90,000-pound truck-trailers; temporary road mats for energy exploration; and waterfront infrastructure for US Navy bases.