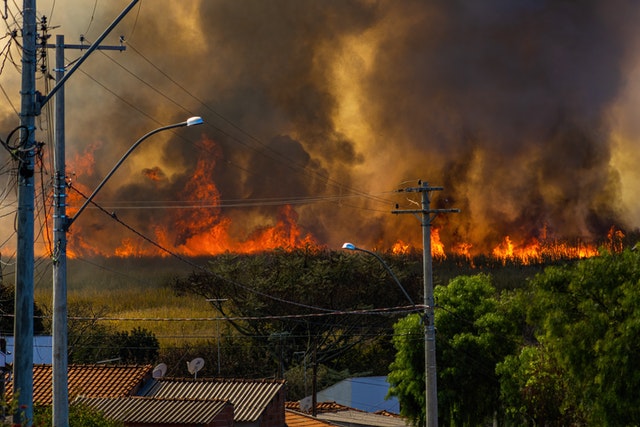 Climate change is negatively affecting everyone and everything, including infrastructure. Even without climate-related problems, the United States' infrastructure is in sorry shape. The Council on Foreign Relations has explained that "Experts say that U.S. infrastructure is both dangerously overstretched and lagging behind that of its economic competitors, particularly China." Dangerous certainly: Failures of old roads, bridges and power grids cause serious harm to Americans each year.
Stressing our already ailing infrastructure are increasing extreme weather events worldwide, which have almost doubled over the past decade compared to the previous 20 years. The recently passed infrastructure bill puts big dollars towards improving our infrastructure, but the soonest changes will take place is in three to five years or more. In the meantime, outdated infrastructure causes loss of life and property each year. One example is the link between old power lines and utility poles and wildfires.
Extreme weather presents a serious risk as extreme weather events continue to rise, battering aging power lines and wooden utility poles and risking blackouts, fires and more. The time to invest in a more resilient, lasting alternative is now. Fiber Reinforced Polymer (FRP) poles from CCG, backed by StormStrong® technology, can endure extreme weather events and stand the test of time with minimal maintenance.
Wooden Poles and Wildfires
The increased frequency and intensity of storms due to climate change significantly increase the risk of wildfires caused by aging utility infrastructure. Electrical Contractor explains that, "In some instances, high winds can blow nearby trees and their branches into power lines, sparking fires. In other cases, wind can snap wooden distribution line poles, causing live wires to fall onto nearby dry grass, setting it on fire." And while the number of wildfires per year is down from previous decades, the acreage affected is much greater.
Power lines are blamed for only about 10% of California's wildfires, but the devastation of these fires has been exceptional. Many utility companies are forced to use rolling blackouts to protect high-risk areas during wildfire conditions. In fact, some residents have taken the unprecedented step of requesting a blackout from their utility company to protect their neighborhood from wildfires caused by decrepit infrastructure. But blackouts treat the symptom, not the disease: they make the best of dangerous infrastructure, rather than eliminating the danger by fixing the infrastructure.
Many suggest undergrounded or buried power lines as the solution, but this can be extremely cost-prohibitive and can interrupt environmentally sensitive areas, like wildlife preserves. A middle-way solution exists in FRP.
Fiber Reinforced Polymer Protects the Grid and the Environment
Fiber Reinforced Polymer (FRP) is a composite material up to the infrastructural challenges of climate change. FRP is non-combustible, meaning it won't contribute to a fire like wooden poles. FRP also has a low environmental impact: its production has a low carbon footprint, it doesn't contribute to deforestation and it isn't coated with possibly environmentally harmful chemicals like penta. FRP also has a super-long service life compared to competing materials, and it requires less maintenance over that long life.
FRP utility poles made by Creative Composites Group are backed by StormStrong and FireStrong™ technologies, innovations that keep FRP poles resilient for longer. StormStrong products have been tested and rated for wind, seismic and missile impact, meaning they can endure hurricane-force winds with minimal damage. FireStrong products have been tested and proven to retain a 4,500-pound design strength after a fire and exceed UL Code for Fire Retardancy and are designed to pass the UL94 test with a V0 rating providing added confidence in resiliency against a fire. CCG utility poles help keep the power grid up and running even under extreme weather conditions and are a more affordable alternative to undergrounding.
As we all do our part to offset climate change, utilities have to think decades in advance as the power grid is improved. Contact Creative Composites Group today to discuss FRP as a more durable alternative to traditional wood utility poles.