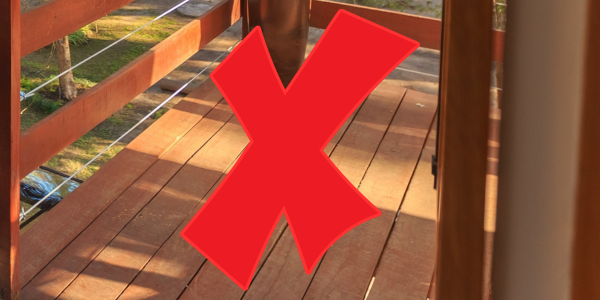 Two of the most popular tropical hardwoods are now on the CITES Appendix II of the endangered species act. This is good news for Cumaru and Ipe trees, but it presents major pricing and availability challenges to the markets that rely on these materials.
Ipe Wood Is Out. What Are Some Hardwood Alternatives?
Tropical hardwoods like Ipe and Cumaru are so popular because they are extremely durable and very beautiful. This has made them the material of choice for boardwalks, bridges, decking and utility poles.
The industries that rely on Ipe and Cumaru now must consider alternative materials. Fiber Reinforced Polymer (FRP) decking and utility poles have a proven record of durable, aesthetically pleasing performance, even under the harshest conditions. As a synthetic product, FRP will never be on an endangered species list. An installation can last for upwards of 75 years with minimal maintenance, and FRP can be customized to match the aesthetic of almost anywhere.
Why Tropical Hardwoods?
Ipe and Cumaru woods have exceptional durability and resist decay, termites and other pests. They are also highly resistant to moisture and are strong enough to withstand extreme weather conditions. Ipe and Cumaru woods are also known for their natural beauty. A distinct grain pattern gives a unique and elegant appearance. This made these woods a popular choice for outdoor, high-traffic applications like the Coney Island boardwalk.
But Ipe and Cumaru wood are at Mother Nature's mercy. Climate change is having a significant impact on rainforest ecosystems, and demand for these hardwoods is much higher than nature can resupply (that is, regrow) the rainforests they come from. Overharvesting has pushed these tropical hardwoods to the edge of extinction.
But lack of supply doesn't stop the demand. Builders have turned to various alternatives as these hardwoods have risen in cost and dropped in availability. Some hardwood alternatives include softwoods like cedar and redwood, treated woods like Accoya and thermally modified wood and composites like composite wood and FRP. Each project engineer will assess the specific situation to determine "what's got to give" if Ipe or Cumaru isn't available. Will you sacrifice longevity and durability? Pest and weather resistance? Aesthetics?
FRP: Poles and Decking without Compromise
Fiber Reinforced Polymer (FRP) is a type of engineered composite that can be molded or pultruded into nearly any imaginable shape. It has the qualities needed for high-traffic pedestrian walkways and utility poles, including:
• Strength (especially compared to weight)
• Durability
• Supply and prefabrication
• Aesthetics
FRP is Strong but Light
FRP made by Creative Composites Group (CCG) has been tested against industry standards for strength and safety. This includes ASCE "Pre-Standard for Load & Resistance Factor Designs (LRFD) of Pultruded Fiber Reinforced Polymer (FRP) Structures" design standard, NESC 2012 and ASTM D1036, ASTM F711 dielectric strength testing and UL 94 V0 self-extinguishing testing.

FRP also has a far better strength-to-weight ratio than metal, concrete and wood. Though it is lightweight (almost four times lighter than the wood equivalent), FRP utility poles have a bending strength above 50,000 psi and FRP decking can support more than the 90 PSF uniform pedestrian live load.
FRP is Durable and Needs Less Maintenance
FRP's strength makes it durable, and it is engineered to stand the test of time. Even the best tropical hardwood will deteriorate. But some CCG customers have the same piece of FRP decking or the same FRP utility pole in place several decades since the initial installation. To last even a fraction of this time, wood must be heavily treated with potentially harmful preservatives like penta.
To increase durability and longevity, CCG's FRP can be made with StormStrong® technology. StormStrong products are engineered to meet ANSI and NESC code requirements and to avoid rot, rust, spalling and pests (without needing harsh pesticides or chemical treatments). StormStrong FRP can take a massive beating from hurricane-force winds and rain and from blizzard conditions and not only remain in-tact but remain in as-new condition.
FRP Composites Reduce Supply and Labor Problems
Because FRP is an engineered product, it can be made on demand in almost any amount and shape. It is fully customizable to the customer's specifications. And because CCG composites are made in the USA, that supply chain strain shrinks further.
CCG's FRP decking is a strong alternative to wood decking material because it is factory pre-made and immediately ready for on-site installation. This saves precious time, and its light weight means fewer workers are needed for a fast, simple installation.
FRP Structures Blend into Environments
For too long, aesthetics has come second to function. This may mean a raggedy utility pole in the middle of the most serene tree farm or a splintering boardwalk along a shoreline's trendiest street.
FRP is lighter than concrete, stronger than steel and, frankly, pretty. CCG's FRP products can be colored to match even the strictest historic architectural rules. The FRP is first produced with pigments to provide a base color of the customer's choice. The product's visible parts are then coated with a two-part polyurethane to maintain the color's consistency and to provide environmental and UV resistance over the long-term. The color is infused into the material, so it won't chip away or fade over time.
Consider Composites as Tropical Hardwood Supply Shrinks
No single material is right for every job. But FRP offers the strength, durability and beauty of a tropical hardwood without the environment's supply chain problems attached and with arguably the best ROI of any utility pole and decking material. Contact us today to talk through your project.