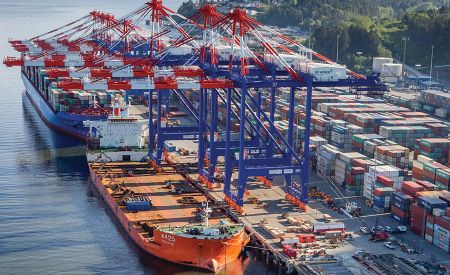 In our last blog we talked about the state of the nation's ports, the amount of freight that moves through the U.S. and what it will take to modernize and rehabilitate America's waterfront infrastructure. Improvement plans are underway. We've taken an excerpt from a report called Liquid Commerce to highlight some of those projects and how they reflect trade flows and volumes.
Deep South
"We're expanding on all fronts," Georgia Ports Authority (GPA) Director Griff Lynch said during an October speech. "We're building the new infrastructure necessary to continue processing cargo with world-class efficiency."
Georgia ports' tonnage volumes grew 8.3 percent in fiscal 2017, including the exports of 607,000 passenger vehicle and machinery units. Lynch announced a $128 million Mega-Rail Project so the Port of Savannah can better handle 10,000-foot long unit trains, which will help move shipments to inland markets—from Atlanta to Memphis, St. Louis, Chicago and the Ohio Valley—more rapidly. Construction is expected to begin this quarter with completion scheduled at the end of 2020.
The Port of Savannah has 10 Super Post-Panamax ship-to-shore cranes on order, for a total of 36 cranes. Four will arrive in 2018, and the final six by 2020. Having 36 cranes on dock will allow Garden City Terminal to move 1,300 containers per hour on and off vessels.
Overseen by the U.S. Army Corps of Engineers, the Savannah Harbor Expansion Project will deepen the outer and inner harbors. The completion date is late 2020. It will allow the largest vessels calling on Savannah to take on heavier loads and to transit the river without waiting for high tide.
Gulf Coast
In August, Terminal Link Texas broke ground on a 25-acre yard in which to stack empty containers at the Port of Houston. The yard will open in July. Houston container volumes grew 11 percent during the first three quarters of 2017. Growth is expected to continue as nearby petrochemical facilities produce more materials for export.
The port commission recently authorized an agreement with the Texas Department of Transportation to build and operate a rail spur to facilitate future intermodal service to the Bayport Container Terminal. Houston also took delivery of three Super Post-Panamax wharf cranes in November.
Pacific Northwest
The Lower Columbia River Federal Navigation Channel is a 600-foot-wide, 43-foot-deep, 106-mile-long waterway that runs through the Columbia River from its mouth near Astoria, Oregon, to Vancouver, Washington. On it, commercial vessels move commodities like grain, fertilizer, logs, automobiles and steel.
The U.S. Army Corps of Engineers and five lower Columbia River ports have begun developing a long-term maintenance plan for the channel to ensure the channel remains operational at 43 feet depth for at least 20 years.
The Port of Coos Bay, Oregon, plans to widen and deepen its commercial navigation channel to allow existing and projected future cargo vessels to have less restricted access to berths and terminals, reducing delays and increasing the efficiency of port operations. Currently in the engineering and design phase, the project will cost between up to $400 million, funded with public and private resources. Dredging activities are slated to begin in late 2019 and conclude in 2022.
New York/New Jersey
The Port Authority of New York and New Jersey has invested nearly $1 billion to date to recover, protect and rebuild in the aftermath of 2012's Hurricane Sandy, with plans to invest up to triple that amount in the coming years.
Over the past five years, the agency completed more than 80 projects, with another 65 Sandy-related capital projects in progress. The agency has improved the way it manages risks posed by sea-level rise and severe weather and has partnered with public and private-sector partners to understand the future impacts of severe weather and to plan for resiliency initiatives.
Mid-Atlantic
Supersized container ships traversing the wider, deeper Panama Canal have been arriving at the Port of Baltimore since 2016. The Maryland Port Administration last year purchased 70 acres of adjacent land to store containerized cargo and for added roll-on/roll-off capacity and for shipping passenger vehicles. Container volume grew 7 percent in one year. Baltimore is ranked as the top port for aluminum imports.
Sunshine state
The Port of Jacksonville said in November it expected to begin building a new automobile processing terminal, adding 100-plus acres of processing and storage space. In May, the U.S. Army Corps of Engineers allocated funds to begin dredging Jacksonville's harbor in order to deepen the federal shipping channel to 47 feet.
"We are … working tirelessly to ensure our port remains competitive in the rapidly expanding Asian trade lane, continues to generate high-quality jobs for the citizens of Northeast Florida and remains ready to serve in the interest of national security," Port CEO Eric Green says.
The port has recorded an average of 21 percent year-over-year growth in Asian cargo volumes during each of the past five years.
These projects represent opportunity for companies looking to become more competitive. Note that some of this growth is EXPORTS. The projects also open the door to increasing use of FRP for a broader range of applications as port owners and operators look for alternative materials that can resist corrosion, last longer and outperform conventional materials.