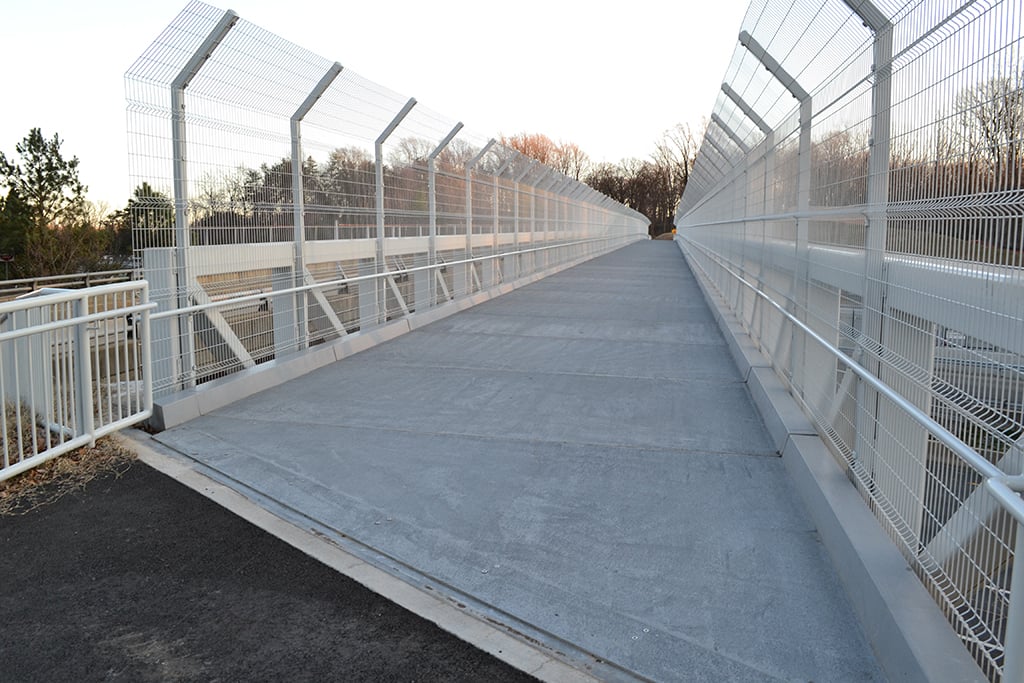 DAYTON, Ohio – (April 25, 2013) – Composite Advantage has introduced a standard line of FiberSPAN™ bridge deck products for use on pedestrian truss bridges. Following the successful installation of its Fiber Reinforced Polymer decking material for an accelerated construction project at Wolf Trap National Park, Vienna, Va., in 2012, the product has quickly been adopted as a robust option for replacing concrete decks on traditional steel truss bridges.
Lighter weight decking has emerged as a growing requirement for truss bridges which are used for pedestrian walkways and bicycle paths. "By incorporating a lighter weight bridge deck with a truss superstructure and fencing, contractors can assemble the bridge near the work site and lift it into place over busy roads with a minimum of road closure time," says Scott Reeve, president and CEO for Composite Advantage. "Depending on bridge span lengths, FRP decking can save up to 100,000 lbs. per span. This kind of weight savings means faster bridge erection using lighter cranes."
CA has established standard FRP bridge deck configurations based on AASHTO pedestrian bridge requirements and typical stringer support spacing. Bridge deck depths include 3, 3.5, 4 and 5 in. These product forms and depths will provide designers with the specifications they need to incorporate FiberSPAN decking into their bridge concepts.
CA also is able to provide additional deck configurations and depths to help engineers optimize bridge designs. The bridge deck product comes with a non-slip wear surface. Standard colors include gray and beige with custom colors available. Curbs, drainage scuppers and expansion joints are optional features that can further reduce on-site construction time and labor.
CA is a leading manufacturer of very large fiber reinforced composite parts, up to 52 feet, for structurally demanding applications and corrosive environments. The company engineers FRP products to provide customers with robust solutions that are lighter weight, offer zero maintenance and deliver longer life cycles. CA fabricates large, complex parts that incorporate the finishing and assembly details customers need to reduce installation costs. Preassembled parts also mean faster installation which minimizes disruptions to traffic flow and reduces overall labor costs. CA products range from vehicle and pedestrian bridges, waterfront infrastructure, and rail station platforms to high performance pads and mats.