High-Strength SuperDeck Lite Pultruded Composite Decking Gives Ambulances and Maintenance Vehicles Access To Trails, Bridges, Boardwalks and Sidewalks

ALUM BANK, Pennsylvania - The Departments of the Interior and Agriculture will invest $2.8 billion this year in critical deferred maintenance projects, transportation improvements and recreation infrastructure for national parks, wildlife refuges and recreation areas. With park visits on the rise, engineers are specifying bridges, boardwalks, sidewalks and trails that can support ambulance and maintenance vehicles. To meet this requirement, Creative Composites Group (CCG) has introduced its new pultruded Fiber Reinforced Polymer (FRP) H-5 SuperDeck Lite deck profile.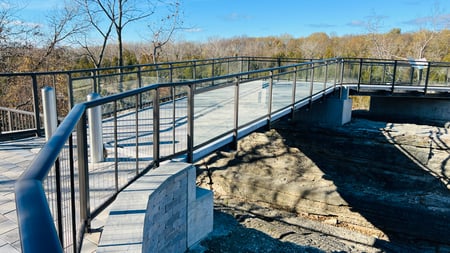 The composite manufacturer engineered H-5 SuperDeck Lite to AASHTO H-5 and H-10 standards for uniform live loads and vehicles weighing 10,000 lbs. and 20,000 lbs, respectively. Produced in the U.S. at an ISO 9001:2015 compliant facility, SuperDeck Lite is corrosion and rot-resistant, environmentally sustainable and offers the lowest lifetime cost of ownership. Easy to carry, drill cut, SuperDeck Lite pultruded deck profiles are significantly lighter than newly treated lumber and offer fast installation in remote areas. CCG also developed deck attachments for top-down construction or for blind-bolted connections.

"Traditionally, park trail bridges and pedestrian access structures have used treated timber decks," says Dustin Troutman, director of product development for CCG. "Agencies are telling us that they are only getting about 10 years of performance life out of treated lumber. It's difficult to assess the structural integrity of wood decking for supporting a 10,000 lb. vehicle as it ages and begins to rot and decay. A large number of national parks don't want to use treated wood because the preservatives leach into the environment."
SuperDeck Lite is available in standard isophthalic polyester and vinyl ester resin systems with a fire retardant option. Aesthetically pleasing, the product is designed to blend with its surroundings and is available in slate gray, olive green and beige. An ADA-compliant anti-skid surface enhances safety.

About CCG
Creative Composites Group (CCG) supplies innovative Fiber Reinforced Polymer (FRP) products for major infrastructure markets. CCG has the design-build and structural fabrication expertise to provide engineered systems and OEM solutions. CCG's combined team of engineers and technicians have been developing lightweight, durable, cost-effective FRP products for structurally demanding applications and corrosive environments for more than 50 years. Many of these products have paved the way for first-time use of engineered FRP composites for demanding infrastructure markets including: utility, rail, bridges and waterfront applications because of FRP's high-performance attributes. CCG is owned by Hill & Smith Holdings.