Alum Bank, PA, October 19, 2022 - Creative Composites Group, the leading manufacturer of Fiber Reinforced Polymer (FRP) composites, is proud to announce that the company has been awarded the Unsurpassed Innovation Award from the Composites and Advanced Materials Expo.

The company submitted its line of Fire Resistant Utility Poles, FireStrong Self-Monitoring Composite Pole Systems, for the award. These poles are often used as an alternative construction material for utility poles. As the name states, the product is able to maintain its structural integrity after a fire allowing them to be kept in service (decreasing any amount of downtime after a fire).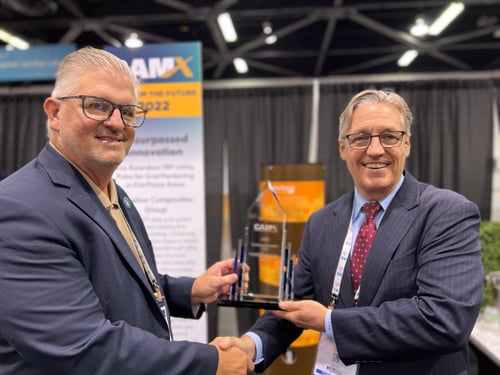 Creative Composites Group(CCG)'s FireStrong poles are engineered to last up to 75 years in some of the harshest environments with little to no maintenance. Ultimately allowing for low total cost of ownership, as well as resiliency in the case of unforeseen events. The poles include a temperature monitoring system that is engineered to continuously monitor the temperature experienced by the pole and record the highest measured temperature measured on its surface. This allows utility workers to measure the temperature vs. the strength retention chart of a FRP pole when evaluating whether or not a pole needs to be replaced.

"We were excited to learn that the resilient and innovative nature of Creative Composite Group's FireStrong poles has earned the company this award. CCG prides itself in being a company that can be relied upon to manufacture materials that are not only strong enough to withstand a broad range of elements but also innovative as well – and the temperature gauge on FireStrong poles shows that." – Shane Weyant, CEO, Creative Composites Group

Having strong utility poles that can withstand damaging weather events, such as wildfires, saves companies both time and money annually. For more information on Creative Composites Group's FireStrong Utility Poles visit: www.creativecompositesgroup.com/products/utilities/utility-pole-fire-resistant

About CCG
Creative Composites Group (CCG) supplies innovative Fiber Reinforced Polymer (FRP) products for major infrastructure markets. Whether a job calls for tight tolerances or robust, very large structures, CCG has the design-build and structural fabrication expertise to provide engineered systems and OEM solutions. The Group's combined team of engineers and technicians have been developing lightweight, durable, cost-effective FRP products for structurally demanding applications and corrosive environments for more than 50 years. Many of these products have paved the way for first-time use of engineered FRP composites for demanding infrastructure markets including: utility, rail, bridges and waterfront applications because of FRP's high-performance attributes.