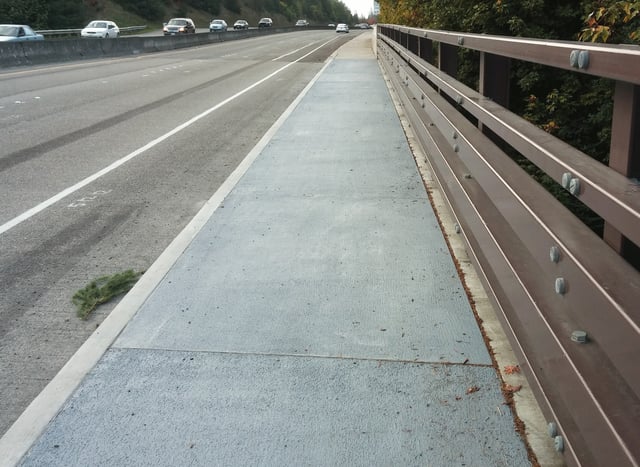 DAYTON, Ohio – (November 7, 2015) –Growing numbers of walkers, runners, hikers and bicyclists are finding it increasingly challenging to share space with motor traffic on vehicle bridges. Earlier this year Frankfurt, Kentucky's 122-year-old "Singing Bridge" made headlines when the Kentucky Transportation Cabinet closed the popular crossing to pedestrians who use the bridge to commute to town; citing reduced structural capacity due to deterioration. One solution - FiberSPAN's FRP cantilever sidewalk system – is gaining momentum among bridge owners due to its' light weight, corrosion resistance and easy installation onto existing structures.
"Even if a vehicle bridge has a sidewalk, it's typically just 3 ft. to 4 ft. wide; too narrow to support the volume of bicycle and pedestrian traffic communities are seeing today," says Scott Reeve, President of Composite Advantage. "It's prohibitive to take additional space from vehicle lanes. Dead load weight limitations rule out 10 ft. wide concrete sidewalks and installing a separate bridge is costly."
FiberSPAN deck panels weigh between four and 9 psf, a 20 percent weight savings when compared to reinforced concrete decking. Connection options include supports at piers for a small superstructure or gussets that act as floor beams at diaphragms or trusses. Railing attaches directly to the FRP decking. Components are prefabricated for accelerated construction and lower installation costs. Functional features like a non-slip wear surface, drainage scuppers, grating, curbs, light posts and electrical boxes are added during fabrication. The sidewalk system consisting of stringers, deck and railing can weigh as little as 13 psf. Lower life cycle costs and zero maintenance make the system attractive.
Composite Advantage is the leading manufacturer of very large Fiber Reinforced Polymer (FRP) composite parts, up to 100 feet, for structurally demanding applications and corrosive environments. CA combines its unique knowledge, innovative design, field experience and efficient manufacturing processes to support its core products - zero maintenance bridges and bridge decks. CA's other product lines include vehicle bridge decks to handle fully loaded 90,000-pound truck-trailers; temporary road mats for energy exploration; and waterfront infrastructure for US Navy bases.