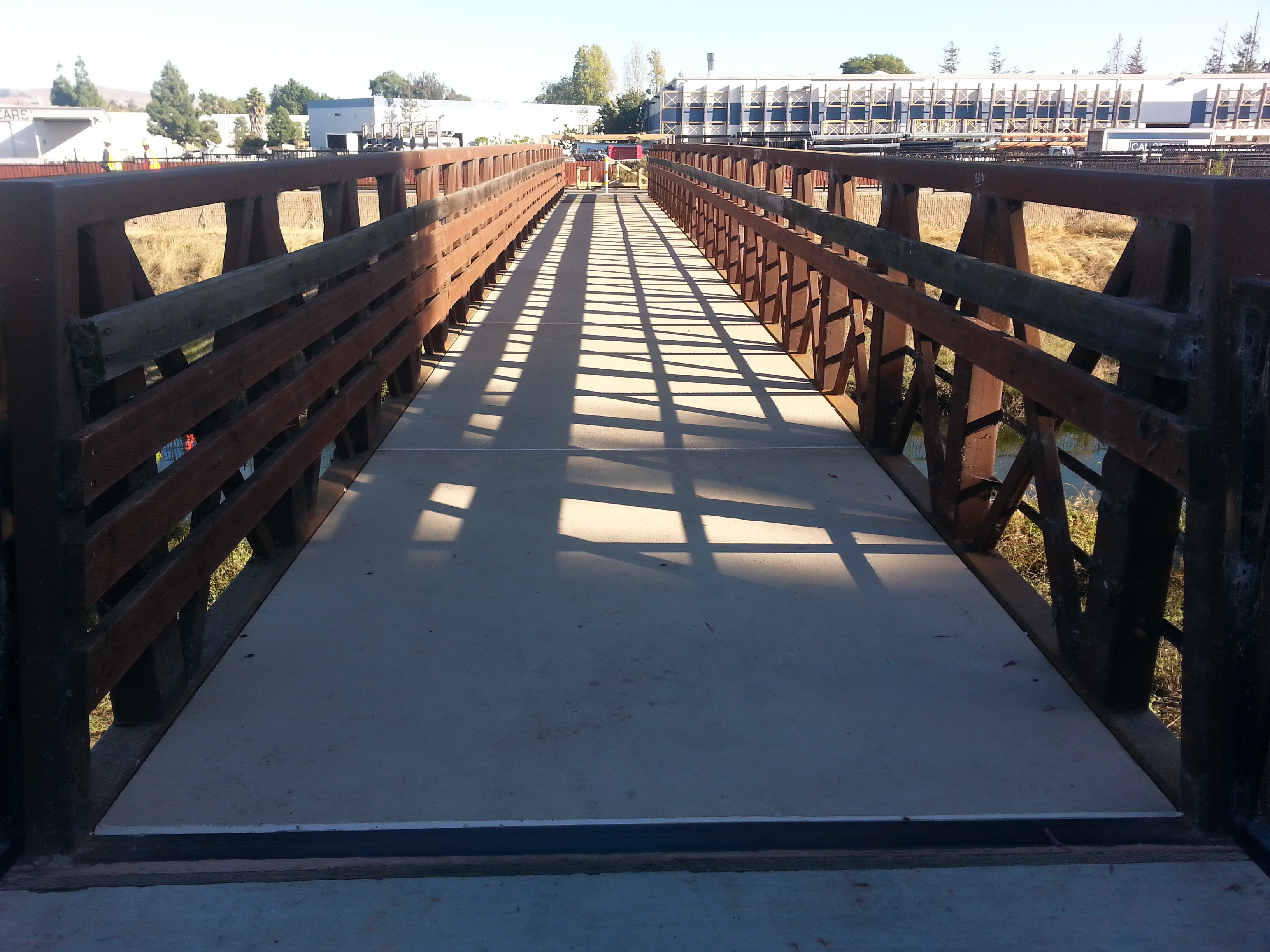 DAYTON, Ohio – (March 30, 2015) –Though miles apart, bridge owners in Springfield, Oregon and Hayward, California had the same idea; to replace traditional wood on aging structures with Composite Advantage's FiberSPAN Fiber Reinforced Polymer bridge decking.
"Both bridge owners were looking for a product with a longer life cycle," says Scott Reeve, president of Composite Advantage. "The two bridges had different thickness requirements but the design flexibility of our fiberglass products makes it easy to tailor bridge decks to the owner's specifications without adding cost or installation time".
A thinner fiberglass composite bridge deck was used for Springfield's Rosa Parks Bridge due to the close spacing of its deck supports. The small railroad trestle structure received a 900 sq. ft. FiberSPAN bridge deck with ten panels 12 ft. by 8 ft. Deck depth was 0.625 in. The decking, built to support a 90 psf live load and a 20,000 lb. vehicle, used mechanical fasteners for a deck to beam connection.
The ACFC Bridge in Hayward needed an FRP deck size that could match the thicknesses of the original wood deck to avoid modifications to the structure's approaches. The new 784 sq. ft. deck with eight panels 12 ft. by 8 ft. was attached to steel truss interiors using mechanical fasteners and U-clips. The fiberglass bridge was built to support a 90 psf live load with an L/360 deflection.
"I chose FRP material because of its durability and skid resistance," Mir Ali, city public works engineer for Hayward. "Bridge performance seems fine after its June 2014 installation. It has maintained a really nice appearance."
Both bridges were installed in 2014 and are beige to blend with their surroundings. Both have been equipped with an epoxy aggregate non-slip coating. Each fiberglass bridge installation took less than one day.
Composite Advantage is the leading manufacturer of very large Fiber Reinforced Polymer (FRP) composite parts, up to 100 feet, for structurally demanding applications and corrosive environments. CA combines its unique knowledge, innovative design, field experience and efficient manufacturing processes to support its core products - zero maintenance bridges and bridge decks. CA's other product lines include vehicle bridge decks to handle fully loaded 90,000-pound truck-trailers; temporary road mats for energy exploration; and waterfront infrastructure for US Navy bases.