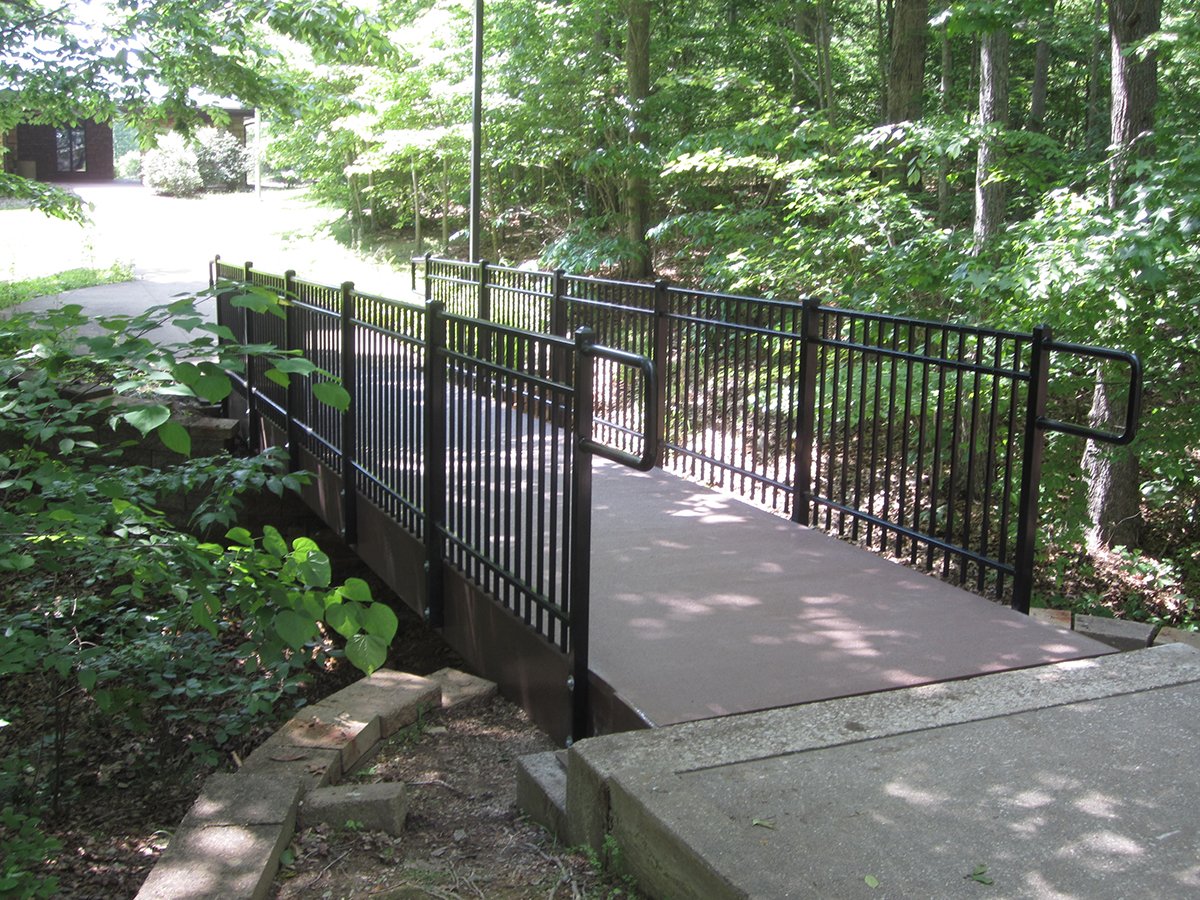 DAYTON, Ohio—(Sept. 11, 2014) Daniel Boone National Forest sprawls across 21 counties in southern and eastern Kentucky. Tucked inside the Cumberland Plateau, the world's longest expanse of hardwood-forested plateau, Daniel Boone is one of the most heavily used forests in the South; totaling more than 708,000 acres and attracting over 5 million visitors a year. When the aging, wood bridge structure at Cumberland District, Morehead Office Visitors Center caught the attention of the U.S. Forest Service, the agency looked for bridge technology that could deliver a fast turnaround and minimal downtime.
"When the Forest Service identified this bridge for replacement, we considered several bridge suppliers but they didn't offer value adds like quick installation," says Kevin Haggard, project manager for K. Hayes Limited. "This bridge sees a lot of pedestrian traffic because it connects the parking lot to the Visitors Center. Minimal disruption for park visitors was critical. Composite Advantage met that requirement with their prefabricated FRP bridge. They also removed the old structure making the whole project quick, with very little down time."
The new 30 ft. long, 6 ft. wide, 16-in. deep FiberSPAN bridge, which fords a stream, was opened to the public in June of this year. Installation, including removal of the old bridge, took only six hours. Composite Advantage manufactured the bridge with a custom color to blend with its natural surroundings.
"They wanted a very specific color," says Scott Reeve, president of Composite Advantage. "The color had to be Bahama Brown. We were able to meet that requirement."
Composite Advantage is the leading manufacturer of very large Fiber Reinforced Polymer (FRP) composite parts, up to 52 feet, for structurally demanding applications and corrosive environments. CA combines its unique knowledge, field experience and efficient manufacturing processes to support its core products - zero maintenance bridges and bridge decks. CA's other product lines include vehicle bridge decks to handle fully loaded 90,000-pound truck-trailers; temporary road mats for energy exploration; and waterfront infrastructure for US Navy bases.