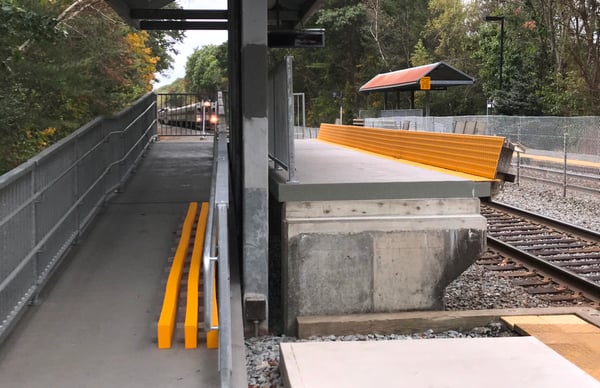 DAYTON, Ohio (January 4, 2018) When the concrete platform at a Billerica, Massachusetts commuter rail station collapsed in 2015, the Massachusetts Bay Transportation Authority (MBTA) closed its North and South mini-high handicap accessible platforms at its West Natick Station. The structures, built with ramps and elevated loading sections, make boarding easy for individuals with disabilities. MBTA needed a high-performance, corrosion-resistant replacement for the structures. The agency found an attractive alternative with Composite Advantage's Fiber Reinforced Polymer (FRP) deck panels.
Earlier this year the Department of Public Safety approved selection of Composite Advantage's FiberSPAN-R product. The FRP manufacturer prefabricated two platforms consisting of six FRP panels each to match the original precast concrete panels. Design requirements included live load of 100 psf, mid-span deflection limited to L/500 and uplift load at 30 psf. Deck weight was 20 psf per panel with the largest panel weighing only 3100 lbs. The lightweight FRP simplified installation compared to precast concrete that is five times heavier.
Crews installed FiberSPAN-R panels for the North and South platforms in one weekend [approximately 8 hours each] to avoid disrupting busy commuter schedules. Panels were set on repaired concrete piers and stainless steel angles were anchored to concrete piers to provide support and a handy connection point. Clip plates were bolted to the bottoms of the composite panels. Retractable edges—designed to permit passage of wider freight trains—were fastened to platform panels and feature yellow detectable warning systems. The 1,134 sq. ft. FRP platforms opened to the public in November 2017.
Composite Advantage is an engineered solution supplier for Fiber Reinforced Polymer (FRP) products for major infrastructure markets. CA pairs innovative design and unique technology with efficient manufacturing processes and in-depth field experience. More than a decade of developing lightweight, high-strength, cost-effective FRP goods for structurally demanding applications and corrosive environments has helped the advanced materials manufacturer create a comprehensive menu of products ranging from pedestrian bridge decks, trail bridges, cantilever sidewalks and rail platforms to fenders, pilings, ship separators and other waterfront structures.