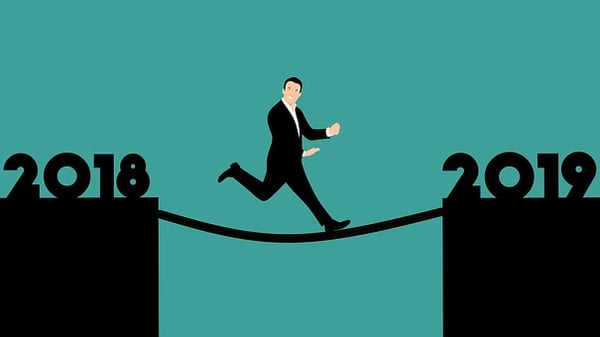 This has been a banner year for Composite Advantage in more ways than one. As we close out 2018 the song "Auld Lang Syne" comes to mind. Scottish poet Robert Burns first put the ancient song to paper in 1788. It still has a place in many New Years' celebrations today. The words in part talk about preserving ties with others and looking back over the events of the year. Or in this case—years.
Since 2005 we've worked to educate the industry about the value of fiber reinforced polymer material as an alternative to concrete, wood and steel. We've made inroads in the marketplace for infrastructure, waterfront and rail applications. We've gained the trust of customers with FRP products that continue to demonstrate their ability to solve problems and perform in tough environments.
Over the course of 2018 we installed a number of different projects:
| | | |
| --- | --- | --- |
| January | Trail Bridge | City of Cape Coral, Florida |
| | Mini-High Rail Platform | Massachusetts Bay Transportation Authority |
| March | Pedestrian Bridge | West Thames, New York |
| April | Aircraft Carrier Camels | Norfolk Naval Shipyard |
| | Vehicle Bridge | Montgomery County, Pennsylvania |
| | Vehicle Bridge | Town of Sandisfield, Massachusetts |
| May | Wind Fairings | Sarah Mildred Long Bridge, Maine |
| July | Fender Systems | Cape May, New Jersey |
| August | Vehicle Bridge | City of London, Ontario |
| October | Vehicle Bridge | Fishing Bridge, Yellowstone National Park |
| November | Pedestrian Bridge | Lake Tahoe SR 28 Project Bridges 1, 2, 3 |
| | Fender System | Route 164, Virginia |
| December | Fender System | Highrise Bridge, Virginia |

In any given year, CA installs a variety of different products. This year we observed a noticeable increase in the number of vehicle bridge decks and fender systems we prefabricated and installed. This demonstrates market recognition that use of FRP decks on historic truss bridges and large diameter FRP pilings for high energy fender protection systems is the best material choice.
In April, we participated in the National Bridge Preservation Partnership Conference in Florida. Government agencies and industry leaders met to talk about preservation technologies. The conference is tied to the AASHTO/Transportation System Preservation Technical Services Program (TSP-2) regional partnerships. Wind fairings were one of the discussion topics. We designed and fabricated two sets of FRP wind fairings for the Sarah Mildred Long Bridge project in Maine. Each was engineered to house an internal walkway to accommodate inspection and maintenance activities. Completion of the bridge and the use of advanced materials is a nod to the technology that will rebuild the nation's infrastructure.
To interest a potential new crop of engineers, we hosted 45 local high school students to our facility in October as part of National Manufacturing Day. They were able to examine FRP material firsthand and learn why the material is so beneficial in infrastructure applications. We used our Lake Tahoe bridge project as a practical example.
In addition to Manufacturing Day, we spent the month exhibiting at the Ohio Transportation Engineering Conference (OTEC) in Columbus, CAMX in Dallas at the Hutchinson Convention Center and the 2018 Biennial Movable Bridge Symposium in Orlando, Florida.
Every year, we also make the trek to Washington DC to support the composite industry's annual infrastructure day. This year our trip coincided with the Trump Administration's unveiling of its infrastructure initiative. Plastic News did a great job summarizing the visits.
Discussion centered on bipartisan legislation introduced in both the US House of Representatives and the Senate, under the title of the Innovative Materials for America's Growth and Infrastructure Newly Expanded (IMAGINE) Act.
Perhaps the most exciting news this year involved our company. Hill and Smith, a large infrastructure company headquartered in the UK, acquired Composite Advantage. That means we are now part of the Creative Composites Group consisting of Creative Pultrusions, Kenway, ETTechtonics and Tower Tech. These companies specialize in delivering engineered solutions to the infrastructure market. By combining products and unique skills from each of these companies, CCG can offer a wide range of solutions. We'll be able to leverage that strength to serve our customers on a different level. I can't wait to see what the New Year holds.