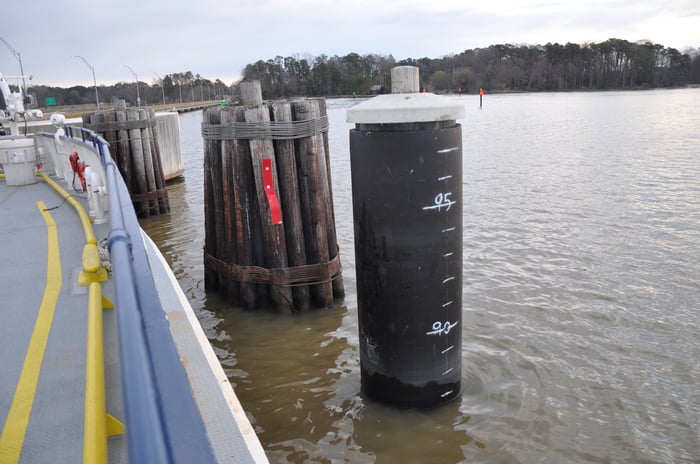 The 1954 film "On The Waterfront" won eight academy awards for its gritty portrayal of union corruption on the docks. The movie also chronicled the redemption of ex-prize fighter Terry Malloy played by Marlon Brando who uttered the iconic line, "I coulda been a contender." In the waterfront infrastructure market, the attributes of Fiber Reinforced Polymer (FRP) composites makes it a contender. FRP's design flexibility, superior energy absorption, high strength and low environmental impact have allowed it to deliver knockout blows to more conventional materials like concrete and wood.
According to the U.S. Coast Guard, there are approximately 360 commercial ports in the U.S. In addition to ocean-going cargo, many of these ports also support barges, ferries and recreational watercraft. The American Association of Port Authorities estimates that "U.S. business activities related to waterborne commerce contribute more than $3 trillion to America's economy. Coastal structures include aids to navigation, dry docks, fleet moorings, seawalls, groins, jetties and breakwaters designed to make the land-ocean interface safe and efficient. Advanced waterfront and coastal infrastructure provides benefits to the landowner, watercraft and the community, including property protection, longevity, low environmental impact, aesthetics, low maintenance and customized features for each property. Waterfront and coastal structures usually require pilings, structural framing, decking, guidewalls, dolphins camels or fender systems.
The waterfront is a corrosive environment, making maintenance and the costs associated with it, a crucial consideration when it comes to material selection. Saltwater, chemicals, UV radiation and changing weather conditions promote rot, rust and spalling. Naturally anti-corrosive, FRP is lightweight, strong and flexible. It combines maximum environmental durability with a level of design flexibility that conventional products cannot match.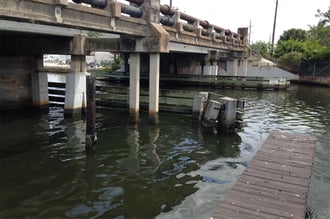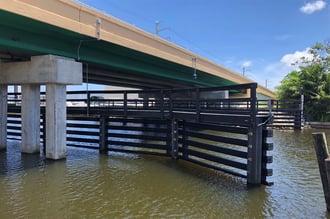 Creative Composites Group (CCG) has the technical know-how and field experience to provide a broad range of FRP products for waterfront and coastal applications. Take a look.
Fender systems—typically the first line of defense for waterway structures like bridge piers which can sustain damage from ships and barges. CCG engineers FRP fender systems to absorb and dissipate high-energy impacts from ships and barges with minimal wear and tear. FRP also demonstrates a lower bending stiffness than concrete or steel, yet retains strength characteristics that are comparable. CCG's sturdy, durable pipe piles come in diameters of 10 inches to 72 inches and wall thicknesses up to 2 inches. FRP wales are stiffer than plastic lumber but provide improved impact load distribution. FRP wales can be molded in tight-radius sections for easy construction in a congested environment. A single, large diameter breasting FRP dolphin can replace entire clusters of timber. It's stronger and more durable with lower-than-average installation costs.
FRP guide walls—engineered with the flexibility to eliminate damage to both the structure and moored ships. FRP sheet piles are replacing traditional retaining walls that were build with decay-proof fiberglass sheeting. With a high strength-to-weight ratio, the corrosion-resistant piles protect shorelines from erosion and extreme weather for decades.
FRP camels—floating structures that fit between berthing vessels and piers—protect both from impact and help regulate traffic and maintain space between vessels. CCG FRP waterfront products include log-style, submarine, aircraft carrier and ship separators.
FRP composites make up the framework for piers, ports, harbors and marinas and can be used to build FRP floating pump-out stations, which require a stable, lightweight platform.
Give us a call today. If you don't see the product you need, tell us about it. We have the engineering expertise and comprehensive capabilities to ensure your project is successful.