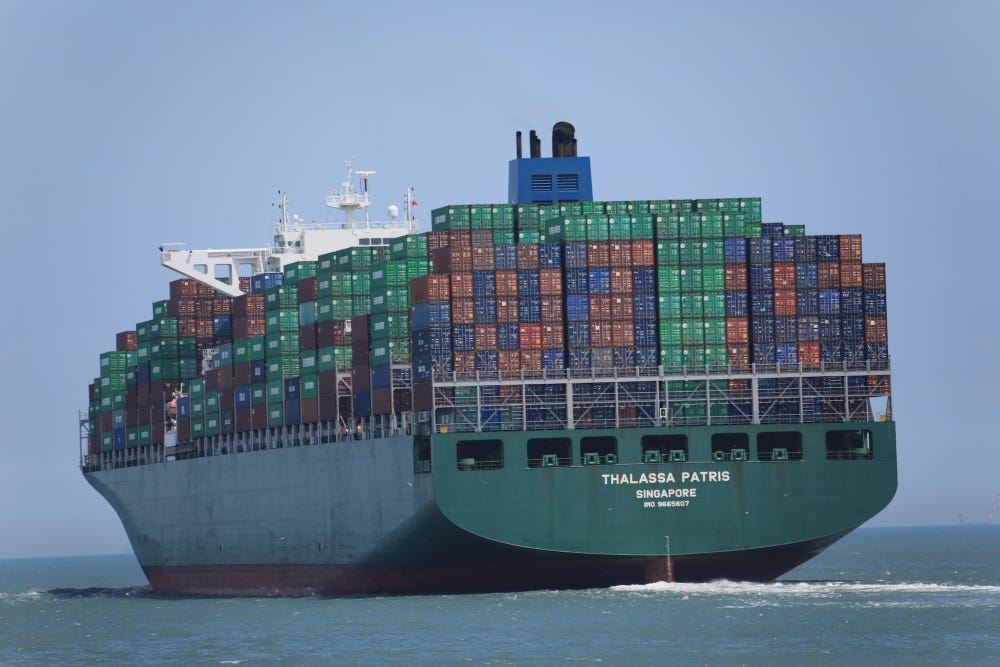 Image courtesy of Getty Images

Wind, salinity, balance between directional stability and instability, currents and harbor water depth, are just a few of the factors maritime pilots and captains have to juggle when docking a vessel—whether it's a ballistic submarine, cargo ship, tugboat, ferryboat or recreational craft. The pandemic's disruption of the nation's supply chain has added another kink in the complex process that ensures products are transported from origin to destination.
The U.S. Coast Guard recently reported that there are approximately 360 commercial ports serving the nation. More than 95 percent of all U.S. trade uses some form of maritime transport. These merchant vessels—totaling more than 50,000 according to the International Chamber of Shipping— move products valued at 1.4 trillion in and out of U.S. seaports. At least half of these vessels are called mega-container ships which measure up to 1,400 ft. long and have a carrying capacity of 10,000 TEUs (twenty-foot equivalent unit).
Depending on the length of incoming ships, a wharf may have as many as two to three berths. Sheds are designed to protect cargoes short term, while privately-held warehouses are equipped to hold goods long term. But the pandemic has put a spotlight on the growing shortage of containers, poor infrastructure, overwhelmed workers, lack of warehouse space and congested ports that are leaving cargo ships afloat offshore for weeks.
Port officials and retailers see the congestion lasting for some time to come as the uptick in demand from home-bound consumers continues. As a result, container ships are getting larger to handle more goods, and ports are getting busier. Similarly, marinas are seeing more demand as U.S. recreational boat sales reached a 13-year high in 2020 and are expected to remain at historic levels through 2021. Creative Composites Group is also expanding to provide real-time infrastructure solutions for the waterfront.
The combined resources, experience and technology of our Group—made up of Creative Pultrusions, Kenway Composites, Composite Advantage, E. T. Techtonics and Tower Tech—give you a comprehensive lineup of fiber-reinforced polymer (FRP) products to help you handle the surge. FRP round pipe piling [from small to large diameter], sheet piling, floating camels, and separators allow you, as the owner, engineer, or contractor, to fortify critical infrastructure (be it docks, seawalls, boat ramps, fender systems).
FRP is maintenance free and can deflect, dissipate energy and recover without damage to ships or fenders. Unlike rigid products which cause a vessel or structure to absorb impact energy through damage, our FRP products can be designed to deflect and recover by dissipating energy without damage to ships or structures. A specialized fiber architecture makes our products as strong as steel, and since composites are orthotropic materials, its properties can be tailored along each axis and in each direction.
Our FRP separators help regulate traffic and maintain space between watercrafts in busy ports. When a vessel approaches a docking site, our FRP camels and separators—built with a diverse set of floating, corrosion-resistant structures—provide safe berths. Because our FRP camels float between a vessel [small boats up to aircraft carriers] and the pier, both are protected from impact damage.
Want more details? Take a look at our Wide World of Waterfront Applications eBook. It gives you a comprehensive overview of all our FRP solutions including fender systems, wales, dolphins, guide walls, sheet piles, and pipe piles for docks and marinas.
Whether submerged underwater or above the waterline shouldering heavy loads, FRP's design flexibility, lightweight and corrosion resistance, allows us to identify the best combination of materials and manufacturing processes for an application. The result? We're able to give you a cost-efficient system that will outperform conventional materials and outlast your existing infrastructure.
Visit our website. Check out our blogs on our approach to FRP waterfront applications. Download our eBook. Or give us a call and schedule a time to talk with us about your project.