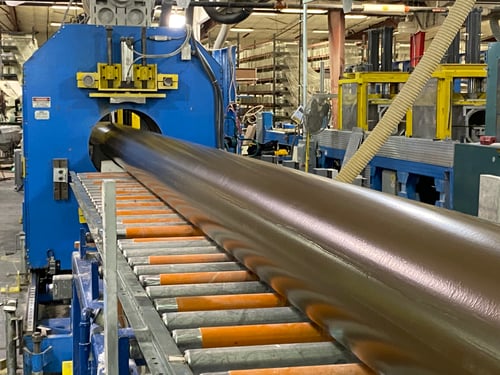 Fiber-reinforced polymer (FRP) is often used as an alternative construction material for utility poles. While the composites offer some degree of inherent fire-retardant properties that protect the structure from fire damage, custom composite fire-resistant pole sleeves can be added to shield the base FRP pole from the excessive heat generated by typical brush/grass fires. If used properly, they enable the pole to maintain its structural integrity after a fire, so it can be kept in service. In addition, the integration of an irreversible temperature monitoring system helps utility workers determine whether pole strength retention was successful.
Benefits of Fire-Resistant FRP Pole Covers
FRP utility poles are engineered to last up to and exceed 80 years in some of the harshest environments with little to no maintenance. Adding fire-resistant covers further increases their durability and longevity in fire-prone areas. As a result, poles will be less susceptible to damage and degradation caused by the heat from a fire. Additionally, since the covers serve as a barrier between the pole and the outside environment, they can protect against other factors that cause decay (e.g., water and pests).
The key benefit of increased durability and longevity is cost savings. For example, if and when a fire occurs, utility poles protected by FRP pole covers will be less likely to experience a permanent loss of strength. As a result, they will not need to be removed and replaced, meaning utility companies will not need to invest time and money into performing these operations, and end-users will not need to suffer through system downtime during them.
Why Integrate a Temperature Monitoring System in Utility Poles?
If desired, an irreversible temperature monitoring system can be placed against the FRP pole underneath the fire protection pole sleeve. The system is engineered to continuously monitor the temperature experienced by the pole and permanently record the highest temperature measured on its surface. During post-fire inspections, utility workers can compare this measurement to a temperature vs. strength retention chart for the particular type of FRP pole to evaluate whether the utility pole has to be replaced. This step helps shorten the amount of time required for inspections without sacrificing the quality of the results.
Working With Creative Composites Group
Creative Composites Group consists of US-based composite companies within the Hill and Smith Holdings PLC family—Composite Advantage, Creative Pultrusions, E.T. Techtonics, Kenway Composites, and Tower Tech. All of them are leaders in the design, manufacture, and supply of infrastructure products and services. The combined industry experience and manufacturing capabilities enable CCG to develop and deliver FRP solutions for various industries and applications, including poles and other utility structures.
Once you submit a request for an FRP solution, our sales personnel will carefully vet your requirements and restrictions and identify the manufacturing company within the group that best fits your needs. This ensures you receive a solution that meets your specifications and standards.